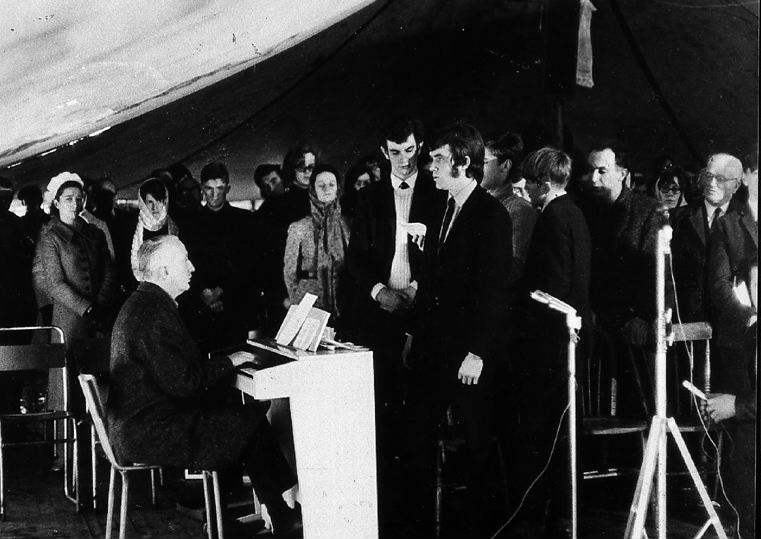 Ó Riada is Dead – Long Live Ó Riada!
Composer Raymond Deane tackles the ongoing 'Ó Riada myth'.
In 1969, the first Dublin Festival of Twentieth Century Music seemed about to set Irish musical life on a course of inexorable renovation. This was followed in 1970 by the publication of the score of Sean Ó Riada's Nomos No. 1: Hercules Dux Ferrariae (1957) for string orchestra [1], and by the issue of Vertical Man, an LP devoted entirely to Ó Riada's works.[2] An annual new music festival (attended by comparatively large and enthusiastic audiences), a new era of publication and recording of Irish classical music: something was in the air, and joy it was for any composer to be alive.
Of course, all was not as it seemed. Ó Riada had long since turned his back on 'Western' classicism and become the high priest of a supposed revival of Irish traditional music. Audiences at the Dublin Festival dwindled progressively until the Festival itself became biennial and at last 'softly and silently faded away'. Practically a quarter century would elapse before Irish composers began to see recordings of their works issued with any kind of regularity, by labels based in Britain, Germany, anywhere but Ireland. Over thirty years later, there is still no Irish music publishing company (which is not to belittle the excellent work done in this line by the Contemporary Music Centre, which is only tangentially involved in publication), and only one composer from the Republic is represented by an international publisher.
Ó Riada's shockingly premature demise in October 1971 has come to symbolise the seemingly inevitable futility of all attempts to lift Irish classical musical life from the doldrums. His well-nigh Sophoclean status was compounded by the publication in the years immediately following his death of major poems in his memory by three of Ireland's leading poets, Thomas Kinsella, Seamus Heaney, and John Montague.[3] Although the latter possessed some undoubted musical knowledge, none of these versifiers was concerned with dissecting Ó Riada's actual musical achievement: instead, it was his symbolic status as 'our jacobite, / our young pretender' (Heaney) that provided appropriate fodder for verse. Presumably, had he lived twice as long, produced a string of universally honoured works fusing the traditional and classical, and died peacefully from gout, the world would have been somewhat the poorer for poetry (similarly, the only other poem I can think of dedicated to a twentieth-century Irish classical composer is Hugh Maxton's elegy on Frederick May[4], another tragic embodiment of personal and – by questionable extension – national unfulfillment). One might scour the shelves of recent Irish poetry without finding any reflection of the fact that Irish composers are steadily and often successfully working at making national and international reputations for themselves. Perhaps, given the devotion of our poets to narratives of tragic failure, this fact is in itself a rather favourable omen.
Professor Harry White chose to reiterate the bleakest possible perspectives on these matters in his book The Keeper's Recital: Music and Cultural History in Ireland, 1770–1970.[5] In general. White's account of Ó Riada is unexceptionable and often insightful. Nevertheless, he involves himself in a number of contradictions in attempting to mould his subject to the demands of his thesis. The painful jingoism of Ó Riada's Our Musical Heritage (the texts of a series of radio lectures given in 1962), is 'explained paradoxically by his own achievement as a European composer' – but that achievement is too slim to explain anything satisfactorily (unless one is prepared mercilessly to dismiss Ó Riada's concerns as alibis for his own incapacity). We nod in agreement when Professor White asserts that 'Ó Riada's significance in the cultural history of music in Ireland is curiously prone to exaggeration', yet also encounter the statement that he 'bids fair to become the crucial figure in Irish music of the twentieth century', a projection into the hypothetical future of a standpoint the present acceptance of which is crucial to White's argument. This argument see-saws with significant ambiguity between the poles of cultural and musical history without settling satisfactorily in either. In elaborating his incontrovertible thesis that music in Ireland has traditionally played submissive handmaiden to text within a predominantly verbal culture, he is careful to reiterate that his concern is with the reception of music and not with its inherent qualities. Nonetheless, it appears that he is not a neutral observer. Writing of Famous Seamus, he assures us in breathless tones not far short of hero-worship that Heaney's 'ideas are mediated by a poetic voice which is so apparently musical that to comment upon it entails the risk of redundancy', a useful caveat for the critic who has no burning desire to prove his point by rational argument. Worse is to come: 'In Heaney, language has so completely absorbed music that music itself becomes superfluous.' Finally, the coup de grâce: 'his poetry achieves structures of sound, sense and imagery engineered with a degree of originality which so far eclipses the condition of Irish art music that no useful comparison between the two is tenable.'
Naturally, even were I not convinced that the systematic overrating of the majestically uncontroversial Heaney serves all kinds of useful cultural and political functions (it is conspicuous that Professor White never mentions Ó Riada's friend Thomas Kinsella, an altogether more uncomfortable presence on the Irish politico-cultural stage and an altogether more significant poet), I would be deeply unimpressed by this sleight of hand whereby the critic participates eloquently in the very belittlement of music that he professes to bemoan. With friends like this, a beleaguered composer might reflect, who needs enemies?
And undoubtedly composers are still beleaguered in Irish society, and the literary paradigm still holds sway. However, the primacy of the verbal has long since become a commodity preserved in aspic by cultural managers and manipulators. The actual quality of post-Joycean Irish writing is largely reactionary and derivative, tailored exclusively to the demands of English publishers, or of the English (and US) stage. The new Irish novel (in English) is a conventional hodgepodge of dreary realism without formal ambition or linguistic distinction. Where poetry deviates from that 'egotism and indiscretion' that Yeats excoriated, it is neglected to the verge of suppression (Kinsella, Trevor Joyce). Myles na gCopaleen's assertion that 'Paud and Paudeen drooling on the stages of the West End, with the "poetry" slobbering out of their unwashed mouths, will always be a winner'[6] sums up most recent Irish successes in the theatre. Perhaps, indeed, the 'literary paradigm' is in fact a monetary one in the new neo-liberal Ireland, where a nice little earner is always the ultimate object of worship (here the Nobel prize-winning Heaney often finds himself on the same shopping-list as Riverdance and Boyzone).
In the final analysis, Harry White's supposedly rhetorical question 'What claim attaches to the prospect of an Irish music in the European tradition?' may be adequately answered by pointing to the numerous composers since 1970 whose work 'achieves structures of sound engineered with a degree of originality' far surpassing anything their literary contemporaries would dream of attempting (at the risk of alienating their wary publishers). One can only wait with baited breath for Irish musicologists to catch up with this wealth of achievement, unhampered by allegiance to the self-fulfilling prophecies of so-called 'cultural history'. Meanwhile, there are hopeful signs that the outside world is beginning to see through the pretensions of our more shallow literary operators, or at least beginning to tire of them. The time may well be ripe for classical composers (and visual artists) to make their presence more widely felt in the international arena.[7] Indeed this is already happening: from Gerald Barry to Jennifer Walshe, Irish composers arc distinguishing themselves and winning awards at festivals from the ISCM World Music Days to Darmstadt to the UNESCO Rostrum of Composers.
It is notable that while the myth of Ó Riada continues to hover destructively over our musical life, his works themselves are steadfastly neglected. The venerable mechanisms of sublimation and repression appear to be hard at work here. When even his single fully successful composition Hercules Dux Ferrariae is almost never performed, what are the hopes of hearing such works as the Nomoi 4 and 6, or the 1960 Triptyche for orchestra? Were these works to become a regular part of our concert experience (together, for example, with Frederick May's Songs from Prison of 1941), it might help to contextualise their composer's real but very minor achievement. Simultaneously, could we not resurrect such classics of the brief upswing of 1960s avant-gardism as John Kinsella's Two Pieces for String Orchestra (1965) or Seóirse Bodley's orchestral Configurations (1967)? Composed even before the days of the Dublin Festival, these works constituted brave and lonely gestures on the part of their composers. It is a noteworthy aspect of the present musical scene (in Dublin at any rate) that serious attempts are being made to ensure that new works are not merely performed once and then consigned to oblivion. It seems perverse, while lamenting the non-existence of a new music tradition in Ireland, to deny repeat performances to the few older works that constituted the outline of such a tradition. We need to dispel the twin illusions that new music in Ireland expired with Ó Riada, and that today's composers are somehow languishing in his shadow. The dilemmas that overwhelmed Ó Riada have been overcome again and again by independent-minded composers who have declined to facilitate the poets by succumbing to silence, addiction, or premature extinction.
Notes
1. Woodtown Music, Dublin, 1970
2. Claddagh Records CSM 1,
3. These poems may be found in Kinsella, A Selected Life, Dublin, Peppercanister, 1972; Heaney, Field Work, London, Faber & Faber, 1979; Montague, A Slow Dance, Dublin, Dolmen, 1975
4. In The Puzzle Tree Ascendant, Dublin, Dedalus, 1988
5. Cork University Press, 1998
6. Irish Times, 3 October 1951
7. See my article 'A Different Music', Irish Times, 28 December 1999
–
First published in JMI: The Journal of Music in Ireland, Vol. 1 No. 2 (Jan – Feb 2001), pp. 5  - 7 .
Published on 1 January 2001
Raymond Deane is a composer, pianist, author and activist. Together with the violinist Nigel Kennedy, he is a cultural ambassador of Music Harvest, an organisation seeking to create 'a platform for cultural events and dialogue between internationals and Palestinians...'.