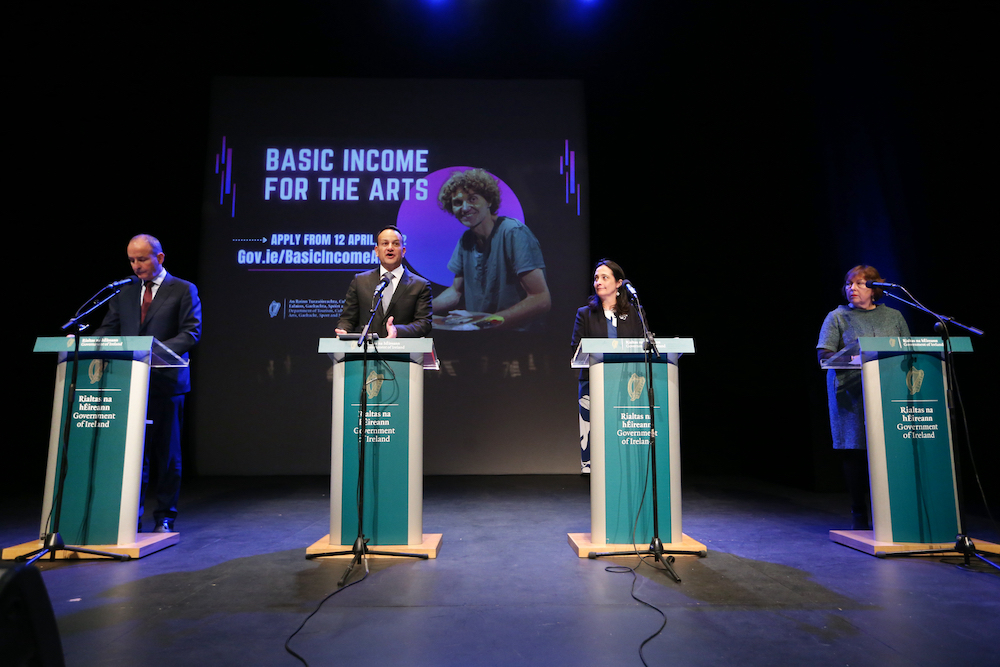 'A new era for the arts in Ireland': Basic Income Scheme for the Arts Opens for Applications on 12 April
2,000 participants will receive €325 per week over three years as part of the pilot.
The government has today (5 April) launched the Basic Income for the Arts pilot scheme. The scheme will provide 2,000 artists and arts sector workers with €325 per week for three years. The scheme opens for applications on Tuesday 12 April and closes on Thursday 12 May 2022.
The aim of the scheme, which was the main recommendation of the report of the Arts and Culture Recovery Taskforce in November 2020, is to enable artists and creative arts workers (see a list of definitions here) to focus on artistic production/practice without having to enter into employment in other sectors to sustain themselves.
The scheme will be non-competitive. Once a person satisfies the eligibility criteria, they will be included in the selection process. The 2,000 recipients will be randomly selected from the pool of eligible applicants.
The payment of €325 per week is taxable, but the amount of tax will depend on an individual's personal circumstances. Recipients of the Basic Income are also entitled to earn additional income.
The scheme will have two application streams, one for practising artists and creative arts workers, and one for recently trained applicants.
Commenting on the scheme, Minister for Arts Catherine Martin said:
This announcement heralds a new era for the arts in Ireland. As our artists and creative professionals emerge from the devastating impact of the pandemic, the Government is committed to providing an unprecedented level of support as they seek to rebuild their livelihoods. I want the arts not just to recover, but to flourish. That is why I secured funding to help realise this scheme, which was a key priority for me in the Budget.
The Minister has allocated €25 million as part of Budget 2022 to provide for the launch of the pilot scheme.
The Taoiseach Micheál Martin said that, 'Ireland's arts and culture in all its distinctiveness and variety is the well-spring of our identity as a people and is internationally recognised. The Basic Income for the Arts is a unique opportunity for us to support our artists and creatives in the sector and ensure that the arts thrive into the future.' Tánaiste Leo Varadkar commented: 'This is a really important day for the creative arts in Ireland. Our country is world-famous for its creative industries, so it's vital that we provide the right environment to allow artists to develop, flourish and focus on on their work.'
For further information and full details on how to apply, visit www.gov.ie/en/publication/29337-basic-income-for-the-arts-pilot-scheme-guidelines-for-applicants/
Published on 5 April 2022