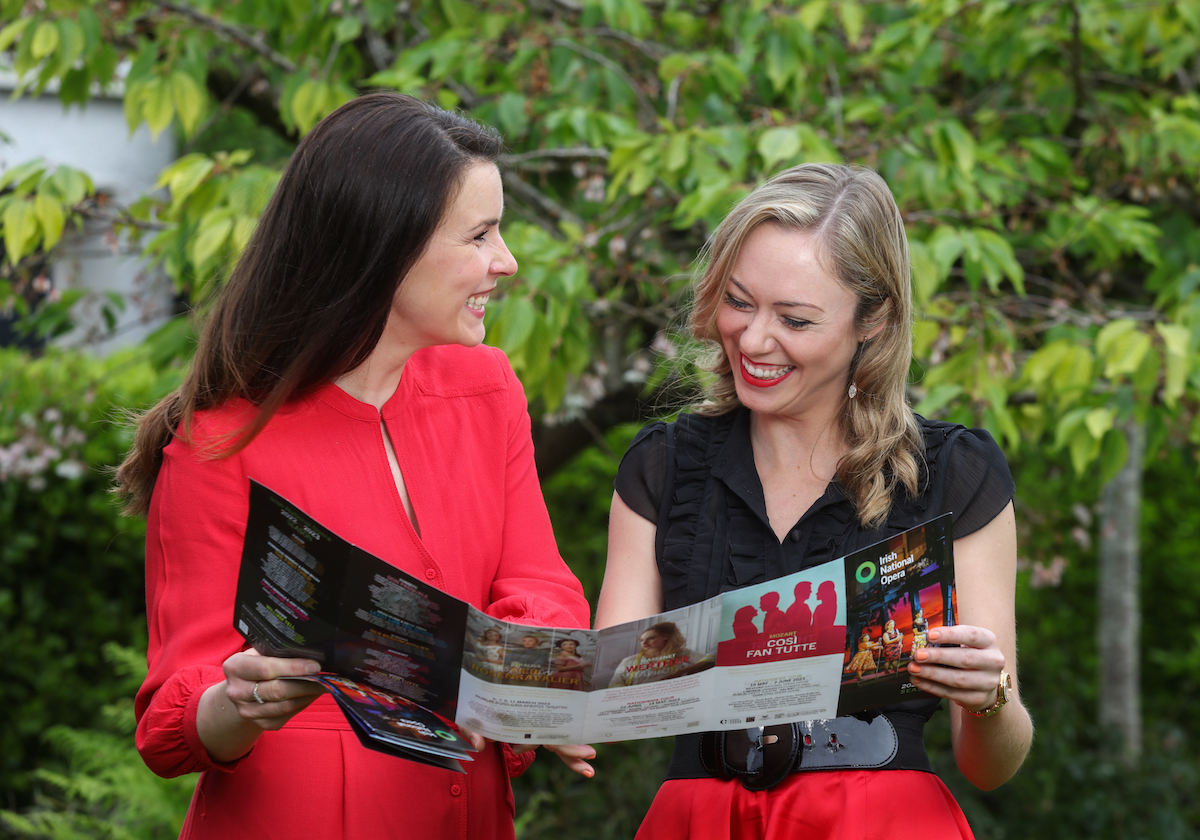 Irish National Opera Announces 2022/23 Season
Rossini's 'William Tell' will be performed in Ireland for the first time since 1877; plus Puccini's 'Tosca', Strauss's 'Der Rosenkavalier', and works by Donnacha Dennehy and Finola Merivale; and featuring singers Celine Byrne, Claudia Boyle and Robin Tritschler.
Irish National Opera has today (18 May) announced the programme for its 2022/23 season, featuring more than sixty performances. Beginning on 11 July and running until June 2023, the season will include a new virtual-reality community opera; the first production of Rossini's William Tell in Ireland since 1877; and the UK premiere of the INO-commissioned Least Like The Other by Brian Irvine and Netia Jones. 
The season opens with Puccini's Tosca starring soprano Sinéad Campbell Wallace in the title role, taking place from 11 to 17 July at the Bord Gáis Energy Theatre. The production will be directed by Michael Gieleta and conducted by Nil Vendetti. 
Launching at Kilkenny Arts Festival this August is a new opera by composer Finola Merivale and librettist Jody O'Neill, Out of the Ordinary (As an nGnách). The piece is a virtual reality community opera that has been created with communities in Inis Meáin, Tallaght and South Dublin. It will be directed by Jo Mangan and features soprano Daire Halpin, mezzo-soprano Naomi Louisa O'Connell, Tallaght Choral Society and Community Choir, and Inis Meáin Community Choir. Exact dates for Out of the Ordinary (As an nGnách) will be announced when the Kilkenny Arts Festival programme has launched. The opera, which won the 2021 Fedora Platform Digital Prize, will then tour extensively across the country.  
Rossini's William Tell will be performed in Ireland for the first time since 1877, at the Gaiety Theatre from 8 to 12 November. The production will be directed by Julien Chavaz and will feature Brett Polegato in the title role, with INO Artistic Director Fergus Sheil conducting. From 5 to 22 March 2023, Strauss's Der Rosenkavalier, starring Celine Byrne, Paula Murrihy and Claudia Boyle, will be performed at the Bord Gáis Energy Theatre, directed by Bruno Ravella.
National and international
In July, Donnacha Dennehy and Enda Walsh's The First Child will be presented as part of the Galway International Arts Festival, and also in September in Navan, Cork, Limerick and Tralee. In January 2023, Netia Jones and Brian Irvine's Least Like The Other – an opera about the tragic life of Rosemary Kennedy – will receive its UK premiere at the Royal Opera House in London. 
Donizetti's Don Pasquale will be presented on a nationwide tour from November 2022 to February 2023. Featuring Graeme Danby in the title role, and soprano Kelli-Ann Masterson, the show will be directed by Orpha Phelan and conducted by Teresa Riveiro Böhm. In April and May 2023, Wether by Jules Massenet will visit towns and cities across the country including Letterkenny, Navan, Galway, Limerick, Dundalk, Ennis and more. Mozart's Così Fan Tutte will close the season in June 2023, visiting Wexford, Limerick, Dublin, Galway and Cork. The production will feature Anna Devin, Sharon Carty, Benjamin Russell and Dean Power, will be directed by Polly Graham, and conducted by Olivier award-winning Peter Whelan.
'I'm particularly excited about two monumental operas, both long missing from Ireland's stages –  Richard Strauss' opulent Der Rosenkavalier and Rossini's epic William Tell', said Sheil. 'Both are astonishing once-in-a-lifetime experiences.'
If you like your opera hot and passionate we have Puccini's Tosca and Massenet's Werther. If you prefer comedy then enjoy Donizetti's Don Pasquale and Mozart's Così fan tutte. If you enjoy the cutting-edge we have The First Child on tour and Least Like The Other in London as well as Out of the Ordinary, our award-winning new VR opera. We have an astonishing roster of vocal talent – INO favourites Celine Byrne, Claudia Boyle, Paula Murrihy, Anna Devin, Sharon Carty, Sinéad Campbell Wallace are joined by new artists to INO; Majella Cullagh, Robin Tritschler, Sarah Brady and many more. Now in our fifth year we continue to expand our mission and win new followers for Irish opera.
For further information and tickets, visit: www.irishnationalopera.ie/ 
Watch below the Irish National Opera season launch event, which took place in Dublin this morning.
Published on 18 May 2022