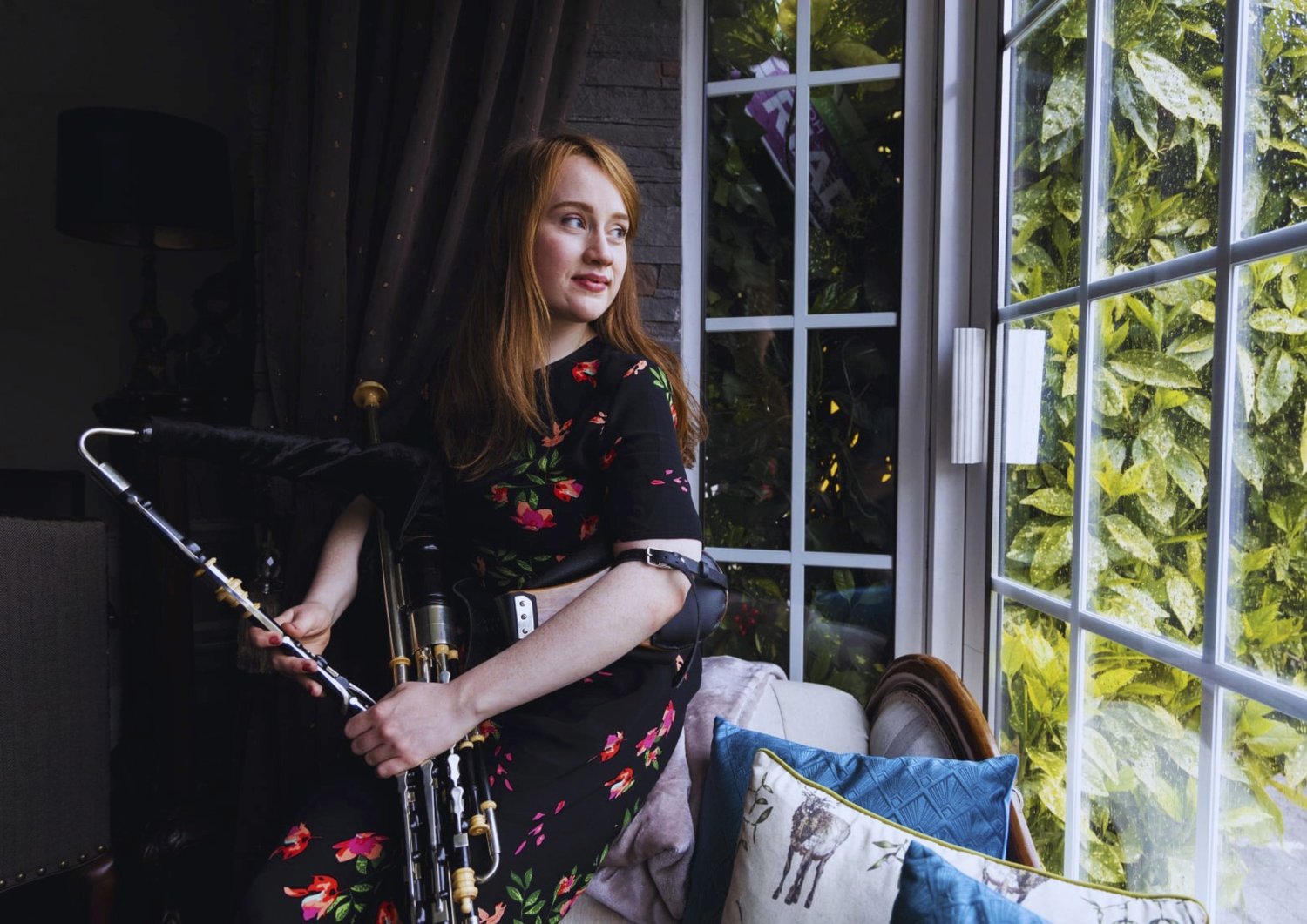 A Landmark Recording in Irish Piping
Na Píobairí Uilleann has recently released the first full album of women uilleann pipers, 'Mná na bPíob Uilleann: Vol. 1', featuring Emer Mayock, Rita Farrell, Muireann Ní Shé, Claire Fennell, Marion McCarthy, Maeve O'Donnell and Pamela Schweblin. Verena Commins reviews.
In the introductory notes to Mná na bPíob Uilleann: Vol. 1, Patricia Logan recalls the now infamous image from 1912 of the Dublin Pipers' Club that appears in Francis O'Neill's Irish Minstrels and Musicians (1913). As the sole woman, seated amongst twenty-four men, the presence of Limerick uilleann piper Margaret Murphy is striking and the image wordlessly relays the gender breakdown of pipers in the early twentieth century. As Murphy demonstrates, however, the twentieth century revival of the uilleann pipes was not the sole preserve of men and reflects musical instrument gender stereotypes and associations common across many genres. The establishment of Na Píobairí Uilleann (NPU) in 1968 did little to challenge those stereotypes and nor was it a priority. However, in the twenty-first century things appear to be changing, as this recording clearly demonstrates.
On the sixth track of Mná na bPíob Uilleann, piper Rita Farrell concludes her three selections with the aptly titled barndance: 'If There Weren't Any Women in the World'. Fortunately, there are, including the seven excellent uilleann pipers showcased by this new recording from NPU. Comprising both young and more established musicians, the recording features twenty-one selections, three from each contributor. Seven different sets of pipes are sounded playing a wide variety of tunes and tune types that reflect the extensive range of styles, influences and approaches exhibited by each musician.

Margaret Murphy and the Dublin Pipers' Club in 1912, from Francis O'Neill's Irish Minstrels and Musicians (1913)
Music sources
The music on Mná na bPíob Uilleann is book-ended by uncommon tunes, sourced from old music collections. Argentinian piper Pamela Schweblin selects four tunes from a collection of Irish traditional music written by Padraic Ganly in Buenos Aires and published there during the early twentieth century. The long opening high D of the 'Maids of Ballinacliffy' draws us into the first of two three-part hornpipes. Unusual, in that each part is played singly, it is followed by the curiously titled 'John Nestor in Action'. It is unlikely that these tunes were written for the pipes, yet they are adapted deftly and with sharp definition in this rendition by Schweblin. The reel set hails from the same collection, providing an insight into the music of the Irish diaspora in Argentina.
This contrasts nicely with Cork piper Muireann Ní Shé's tune selection hailing from a similar timeframe. Collected in Munster (rather than Argentina!), 'Seoithín Seo' and 'Slip Jig 80b' are two slip jigs from the nineteenth century Goodman collection. Many Goodman tunes lend themselves to the pipes with each recorded iteration embedding them further into the canon. Performing on the only flat set of pipes on this recording (a Derrick Gleeson set in C), Ní Shé's version of 'Jenny's Welcome to Charlie' contains clear echoes of Séamus Ennis and Willie Clancy. Her version of the piping favourite 'Garrett Barry's Jig', in using a consistently flattened third, shifts the tune out of its usual mode to something closer to D minor and bringing a subtle new flavour to the tune as a result.
Maeve O'Donnell, from Dungannon, Co. Tyrone, draws mainly on her home province for repertoire. This includes a powerfully executed version of 'An Bonnán Buí', one of three slow-airs on this recording, along with two new compositions. The first of these is 'The Raven's Rock', a piece by Armagh piper Cillian Vallely, whose father Brian is cited as one of her teachers, and she makes light work of the intricacies of Tommy Peoples' 'Black Pat's Reel', the final tune in her selection.
Emer Mayock also moves from the standard repertoire by drawing exclusively on music from her home county of Mayo. Mayock is no stranger to delving into the manuscript tradition to invigorate old tunes as evidenced by her two recent recordings with Mick O'Brien and Aoife Ní Bhriain that draw exclusively from the Goodman manuscripts collection. On Mná na bPíob Uilleann, she includes two tunes from the unpublished manuscript of Crossmolina fiddle player Philip Carolan. Two women, Nóra Rooney of Knock and Delia Henry of Swinford, are the sources for 'Tony Moran's Reel' and the two jigs, 'Killaturley' and 'Delia Henry's', respectively. Mayock also performs a lovely two-part version of the 'Humours of Ballymanus', a slip jig that she acquired from the Francis Roche collection. While the tune appears in a number of collections (O'Farrell's, O'Neill's and as 'Miss Perkins Jig' in the Goodman collection), the turn at the very end of the second part in the version played here restructures the tune as it folds back into the first part, quite exquisitely.
London-born Rita Farrell and Marion McCarthy, and Waterford's Claire Fennell, draw on a more traditional piping repertoire. The influence of Liam O'Flynn and Tommy Reck are cited by Farrell and her first set, 'Alexander's' and 'Higgins'' hornpipes were recorded by Reck (appearing on Master Pipers Vol. 4 – Tommy Reck, released by NPU in 2021). Fennell appeared on the most recent recording of young pipers from NPU in 2018. Her assured playing shines in her rendition of the slow air 'Slán Le Máigh', associated with Munster poet Aindrias Mac Craith, and in particular on her wonderful version of the reel 'The Strawberry Blossom', which she learned from Dublin piper Seán McKeon.
The musical traditions of West Clare and her Galway home environs inform the tune selections of McCarthy. The hornpipe 'Madame If You Please' is a particular treat. Also recorded by another significant woman musician, Julia Clifford with the Star of Munster Trio in 1977, its unusual structure gave cause to it being mistaken for a composition of fiddle player Paddy Fahey, despite its appearance in O'Neill's collection. McCarthy's pathway to the tune is via box player Charlie Piggott, and the sleeve notes connect the tune back to turn of the twentieth-century Galway piper Dinny Delaney.
Recent recordings
This year marks forty-five years since Máire Ní Ghráda became the first woman piper to play solo unaccompanied pipes on a commercial recording: The Piper's Rock, released on Mulligan Records in 1978. Since that time, NPU has championed pipers and piping through issuing new recordings, such as the Ace and Deuce of Piping series, along with the reissuing of older piping materials, as evidenced by the four-volume Master Pipers series. It has also supported young pipers and it is in this space that recordings of solo women pipers can be heard. The first of three recordings of young pipers, A New Dawn: Uilleann Piping, Another Generation (2010), featured Louise Mulcahy, and the second and third, The Rolling Wave: A New Generation of Uilleann Pipers (2012) and A New Harvest: A Generation of Uilleann Pipers (2018), featured two women pipers on each (Rita Farrell and Sheila Friel, and Claire Fennell and Eimhear Nic Comhaill, respectively). The Donegal Pipers' Club also released Bláth na Finne in 2017, featuring five women pipers including Maeve O'Donnell.
Mná na bPíob Uilleann, however, is the first album-length commercial recording of unaccompanied women pipers. This makes it a landmark publication, and by virtue of the quality of its musicianship, it also makes a clear statement about the future direction of uilleann piping, nationally and internationally. It is one thing for people to write and speak about gender inequality; it is quite another for musicians and organisations to take positive action in addressing it. The advent of this recording did not happen by chance, but rather it is the longer-term fruition of the implementation of policies at an organisational level in NPU, and throughout the institution, that strive to achieve equality, diversity and inclusion. Some performers on this recording have been the recipients of piping scholarships from NPU, many are also teachers with the organisation, and all of them are role-models for future generations of musicians. This is an important, impressive and progressive recording. Even better news, Volume 2 is in the pipeline.
Mná na bPíob Uilleann: Vol. 1 is available to purchase from Na Píobairí Uilleann.
Click on the image below to listen.
Published on 13 July 2023
Dr Verena Commins is Lecturer in Irish Music Studies at the University of Galway.