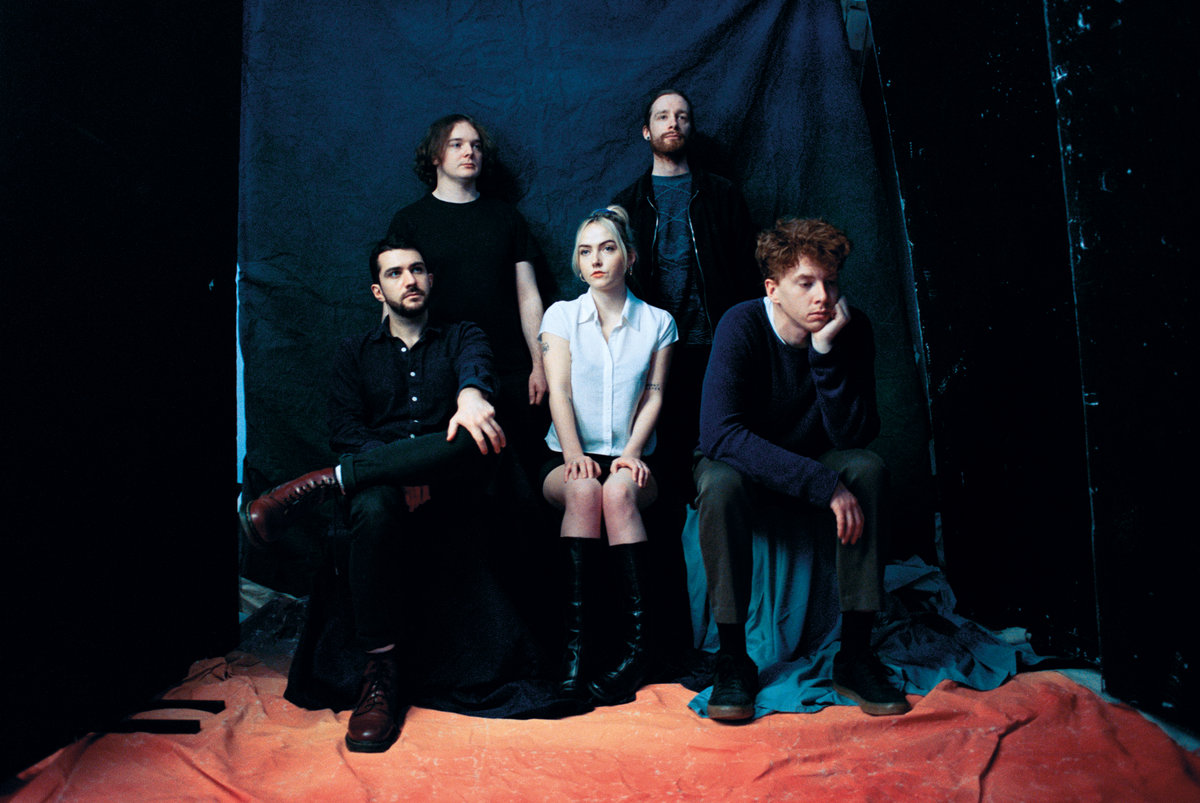 New Releases of the Week (25 February 2022)
A round-up of recent releases including Just Mustard, Paddy Hanna, And So I Watch You From Afar, Far Caspian, Rhona Clarke, and Within a Mile of Kilty Vol. 2. To submit your music for inclusion, please email
[email protected]
.
Paddy Hanna – New York Sidewalk
Dublin singer-songwriter Paddy Hanna has this month released new single 'New York Sidewalk' on the Strange Brew record label. The song is the latest release since his 2020 album The Hill and is a glistening shower of bright guitar, a recurring riff on piano and an upbeat chorus featuring bursts of brass. Commenting on the new track, Hanna said, 'I rather optimistically believe that many of the mistakes or misadventures that happen in our lives can become great anecdotes down the line, a sense of humour can be a real balm in tough times. "New York Sidewalk" is very simply about that – moving on from the past with a wry grin. It's about laying to bed past failures, leaping forward and seeing the love that's all around you.' Purchase 'New York Sidewalk' on Bandcamp: https://paddyhanna.bandcamp.com/track/new-york-sidewalk?from=embed
Just Mustard – Still
Dundalk five-piece Just Mustard have this week announced that their second album Heart Under will be released on Partisan Records on 27 May – their first record with the label. Coinciding with the announcement, the band have also released the album's lead single 'Still', a stomping, moody track with droning guitar and bass and a striking percussion. Speaking about the new song, vocalist Katie Ball said: '"Still" is one of the earliest songs we worked on for the album and has gone through several formations. We wanted to write a song that people can dance to. Instrumentally and lyrically it surrenders itself to other emotions expressed on the album, playing with repetition, tension and release.' Accompanying the track is a new music video featuring close-up images of eyes with flashing appearances of Ball, directed by Balan Evans. Just Mustard will tour extensively this year, both as a headline act and supporting Fontaines D.C., performing across the US, Europe, the UK and Ireland. Pre-order Heart Under on Bandcamp: https://justmustard.bandcamp.com/album/heart-under
ASIWYFA – Jettison
Belfast instrumental band And So I Watch You From Afar have this month released an ambitious new multi-media album Jettison. The nine-part, forty-minute exploration of music and visual accompaniment by artist Sam Wiehl was inspired by film scores and the art of moving pictures. The record also features orchestrator Connor O'Boyle and the Arco String Quartet alongside spoken word excerpts by Emma Ruth Rundle and Neil Fallon. On the scope of the album, the band said: 'Nothing in our repertoire comes close to the ambition of this latest project – the multimedia piece Jettison. The album is a memorable experience that transports the listener away from the tumultuous times and into a blissful musical utopia.' Visit: https://asiwyfa.com/
Far Caspian – Ways to Get Out (Deluxe)
Irish alternative artist Joel Johnston, performing as Far Caspian, has today released a deluxe edition of his debut album Ways to get Out via Tiny Library Recs / AllPoints. The album was originally released in October 2021 and this new edition features three previously unheard tracks and additional alternate versions of songs from the album. 'Come Down And Waste With Me' is the latest of the new songs included on the record, and has a breezy, lo-fi indie sound complete with a wash of vocals, subtle synths and rolling hooks and accompaniment on guitar. The upbeat mood of the song is juxtaposed with touches of lyrical melancholy, revealing difficulties within friendships. 'It's based on a friendship that was starting to diminish,' said Johnston. 'I think the most important line in the song is "And I'm so tired, I'm barely here at all". My mind was so often too preoccupied with anxiety that I always felt exhausted… this led to me to be absent in my friendships and missing out on important moments. It was the first track I wrote for the album when I was still quite influenced by shoegaze.' Johnston today begins a tour across Europe, the UK and Ireland. Visit: www.farcaspian.org/
Niamh Regan featuring Ciaran Lavery – Winter in Eden
'Winter in Eden' is the latest release from singer-songwriter Niamh Regan and will feature on upcoming EP In the Meantime, due on 23 March. The song was co-written with singer-songwriter from Antrim Ciaran Lavery and also features Lina Andonvoska on flute and alto flute and Jake Curran on guitars. The track, which was produced by Alex Borwick, is about the peaceful, quiet moments between two people in a relationship. 'There's something beautiful about that mundanity,' said Lavery. 'Typically, songs tackle the tumultuous ending or frightful beginnings of a couple. This was really fun to discuss the in-between period for a change.' The gentle, lullaby-like song features the complimenting vocals of Regan and Lavery, backed by a dreamy veil of instrumentation. 'It was interesting creating a whole song online,' said Regan of the song written during lockdown. 'Collaborating via Zoom and Whatsapp was surprisingly lovely for creating this song. Sending fragments of melodies, lyrics, ideas and patching them together in our own time felt really easy and I'm proud of what came out of this'.
Pre-order the album on Bandcamp: https://niamhregan.bandcamp.com/
State Choir LATVIJA and conductor Māris Sirmais – Sempiternam: choral music by Rhona Clarke
Released on the Divine Art label, Sempiternam is a collection of ten choral works by Irish composer Rhona Clarke and performed by the Latvian state choir LATVIJA, now in its 80th year. The conductor is Māris Sirmais. Choral music has been a 'constant thread' in Clarke's life and work, as Mark Fitzgerald of TU Dublin writes in the sleeve notes, ever since she was a member of the Lindsay Singers female choir in Dublin. The works on Sempiternam range from A Song for St Cecilia's Day (1991), commissioned by Caintairí Avondale, to Requiem (2020), which she started writing during the pandemic. Also included are Vis Aeternitatis (2020), a setting of Hildegard of Bingen; Ave Atque Vale (2018), commissioned by the Choir of the Chapels Royal for Britain to commemorate the end of World War I; The Kiss (2008), commissioned jointly by the National Chamber Choir of Ireland and the Cork International Choral Festival's 35th Seminar on Contemporary Choral Music; and Do Not Stand At My Grave and Weep (2006), written for her sister-in-law. In the notes, Fitzgerald concludes: 'Whether it is the summoning up of images of immutable light ('Lux Aeterna'), the evocation of visceral pain (Ave Atque Vale) or the sensual tracing in sound of the lines of a woman's lips (The Kiss), Clarke finds a directness and immediacy of expression enabling her to sing these feelings into being.'
To purchase Sempiternam, visit https://divineartrecords.com.
Within a Mile of Kilty 2: Traditional Irish Music from North Leitrim – John Gordon, Ben Lennon, Charlie Lennon, Brian Rooney, Maurice Lennon, Seamus Quinn and Brian Lennon
Volume 1 of Within a Mile of Kilty was released on the Cló-Iar Chonnacht label in 2005. It featured six fiddle-players who came from or had an association with the musical region around Kiltyclogher on the Leitrim/Fermanagh border, including Ben, Charlie and Maurice Lennon, Séamus Quinn, Brian Rooney and John Gordon. Gordon had passed away in 2002, and sadly, Ben Lennon died in 2020. But this new album features twenty archive recordings from the same musicians again, plus flute-player Brian Lennon, and they span from 1956 (a reel from Gordon) to 2020. The collection from Ben is unique, with two home-recorded tracks with his brother Charlie from the early 1960s, plus one recorded by RTÉ from the 1970s, and more from the 2000s. Maurice's tracks feature his own compositions, 'Leaving Lough Melvin's Shore' and 'Sally's Smile', written for his eldest daughter, and Rooney's were recorded in 2005 with Charlie on piano. A unique collection of stylish fiddle playing and more.
To purchase Within a Mile of Kilty 2, visit https://cic.ie.
To submit your music for inclusion, visit: https://bit.ly/38vquCn
Published on 25 February 2022