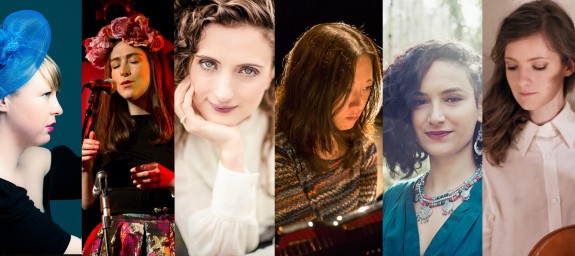 Improvised Music Company Launch Programme to Highlight Gender Equality
'IMC Supports' will begin with album releases by six female musicians in 2017.
The Improvised Music Company has announced details of their commitment to counter gender representation inequality in jazz and improvised music in Ireland.
This long-term plan involves strategies for two main areas: programming, including showcasing female role models as well as promoting artists through balanced programming; and education, including identifying issues leading to a lack of female artists in third-level education. The organisation will work with other promoters and artists to develop goals for diversity across music in Ireland.
In 2017, an initiative called 'IMC Supports' will see the organisation promote and support album launches by six female musicians: vocalist and composer Sue Rynhart's Signals, to be released in April; jazz performer Ruba Shamshoum's debut album Shamat; vocalist and composer Edel Meade's Blue Fantasia; pianist Izumi Kimura's first album of improvisations; cellist and composer Naomi Berrill's second album; and vocalist/composer Ríona Sally Hartman's album of site-specific song cycles. 
Speaking about the new initiative, IMC director Kenneth Killeen said:
We are thrilled to shine a much needed spotlight on the female artists working in jazz and improvised music in Ireland. IMC have much confidence in the talent and ability of the female musicians working in Ireland and abroad and are optimistic that by providing them with equal opportunities we can have a role in changing idiomatic perceptions.

While we are excited about these initiatives, and others to come as we develop further in this area, we are realistic about one organisation's capacity to address what is a substantial issue. However, we acknowledge that incremental steps over time will create more opportunities for women, develop their careers in Ireland and abroad, and progress the genre as a whole.

Improvised Music Company aims to enter this second centenary of jazz with a vision and agenda to highlight the vitality and importance female artists bring to this art form.
For further information, visit https://goo.gl/iWIIWD 
Published on 29 March 2017