Life is Beautiful if You Leave it Alone
From expressive audience participation with the Brian Irvine Ensemble to people unenthused by Finnish experimental jazz, Tim Diovanni reviews two nights of the recent Spectrum festival in Dublin.
'There are no boundaries, there are no labels, there are no genres.' So proclaimed Kenneth Killeen, the director of the Improvised Music Company, introducing the Brian Irvine Ensemble on 8 March in the Button Factory. Irvine and his team, part of the second night of Spectrum, a four-day festival of jazz and contemporary music in Dublin, fulfilled Killeen's promise.
In the first set, composer/conductor Irvine walked into the audience while conducting the violinist, Roman Mints. His hand skated up, over and down imaginary hills, through winding passages and around sharp hairpin turns. At one point, Irvine took the hand of a man sitting at one of the front tables and dove his hand into the man's; Mints, accordingly, crashed down from his sonic stratosphere. In other participatory moments, Irvine invited the audience to rub their hands together, pat their bodies, and vocalise nonsensical noises such as 'ack-ack-ack' and 'ga-ga-ga'. These examples effectively engaged concert-goers, who revelled in connecting with the music in tactile and expressive ways.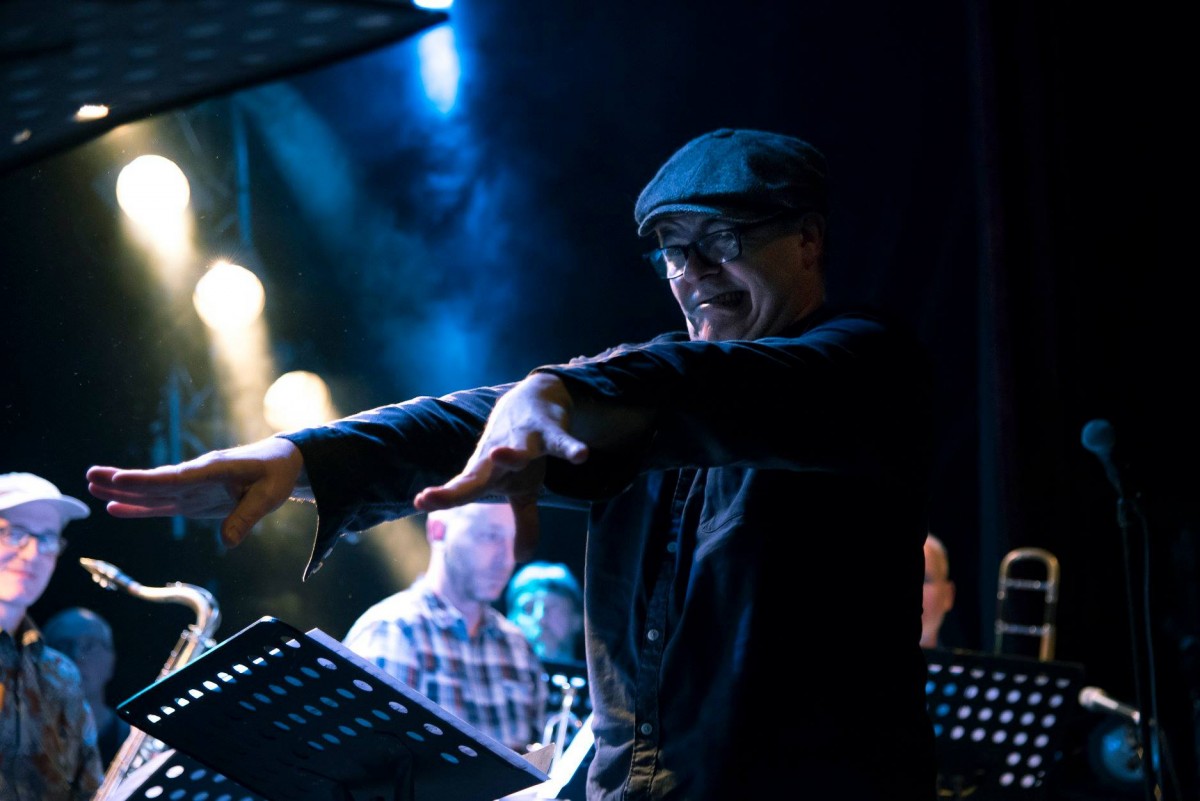 Brian Irvine
Contemporary anxieties
The performance traversed a wide range of moods. In 'Life is Beautiful if you Leave it Alone', a clarinet glissed, a trumpet trilled, a drummer chugged along and a guitar grooved a foundational ostinato. This rollicking mayhem then transitioned to a hazy, lyrical realm in which the violin and flute spun out an attractive tune and the piano clattered a dodecaphonic adornment. Throughout, do-or-die electricity rippled and surged through the group.
Near the end, Irvine spoke to the audience about contemporary anxieties. Brexit, a pressing concern for this Northern Irishman, played a central role in his speech, after which he approached a man in the front row, shook his hand, and said, 'You're alright.' Irvine prompted audience members to shake hands and say this line to each other, and he bounded through the hall, doing the same. The idea of this communal connection appears good in theory. But the preceding music established a mawkishness that created ironic distance, which made this ending feel inauthentic. A different conclusion would have imparted a better final impression for this otherwise consistently enjoyable and thoughtful performance. 
A lack of variety
On 9 March at The Grand Social, Alarmist, a Dublin instrumental rock trio, completed a set consisting of much previous work and at least one piece from their forthcoming recording. In music from the new album, a guitar and keyboard unravelled an expansive, free-floating tune over a thumping kick drum and a charging snare. This feel-good atmosphere alternated with a section of instrumental riffs around a repetitive minimalist figure. The ensemble maintained a loud, driven style throughout, which made one wish for repose; such a contrast could have created a more appealing variety.
A lack of variety was far greater in the next act, the Magnetia Orkesteri led by saxophonist Pauli Lyytinen. The music of this Finnish experimental jazz band followed a general layout. They would begin with an innocuous, trite tune, which could service as a backdrop for a casual driving scene in an '80s film; some instruments would then break off into dull riffs, licks, squeals, noodlings and wails, a solo instrument would perform a dismally featureless solo – the bassist (Eero Tikkanen) executed several of these – and the stale tune would then return. The crowd, generally still as planks, despite the online notice that 'this is a show intended to be experienced while standing, and moving!', was ostensibly unenthused as none greeted the stultifying solos with applause. Magnetia Orkesteri worsened their case by regularly playing not together.
Security swiftly and efficiently ushered the crowd out of the loft shortly after the show apparently because of the next programme. A lacklustre evening had reached its proper conclusion. 
Published on 13 March 2019
Tim Diovanni is a music journalist from New York and a graduate student in musicology at the TU Dublin Conservatory of Music and Drama.