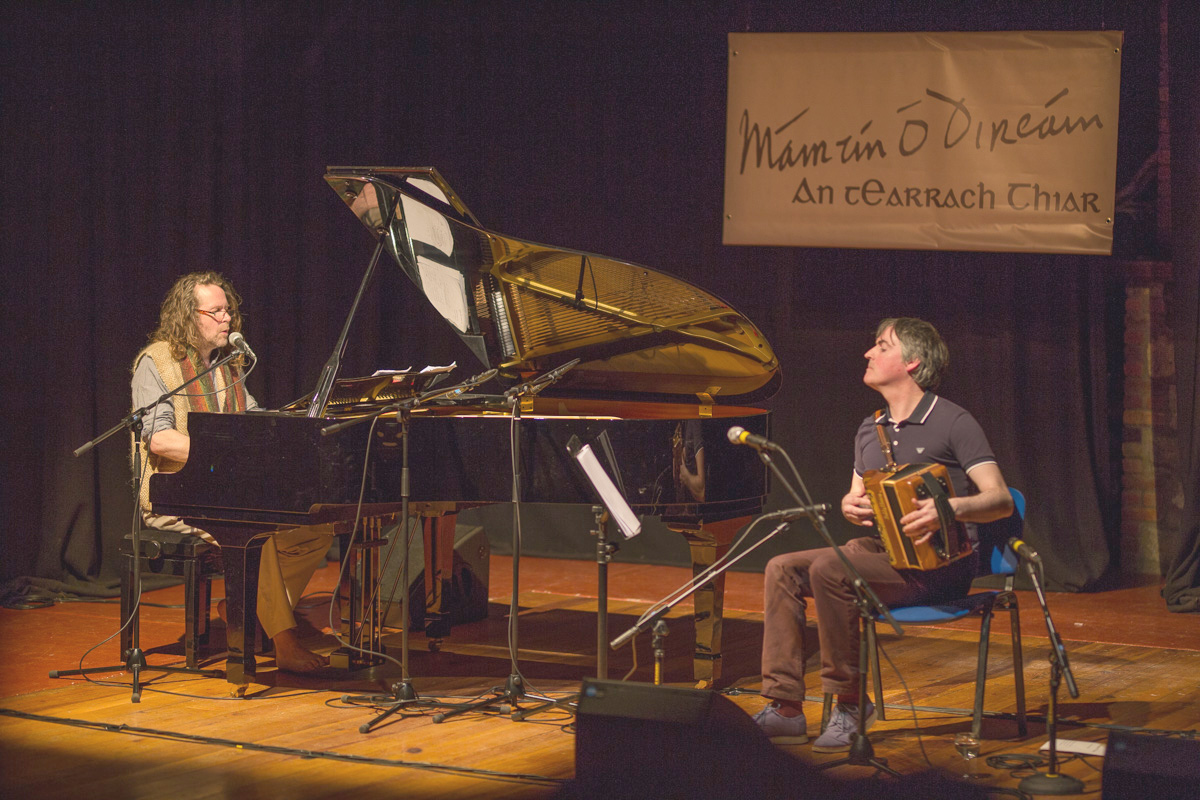 Goodbye to the Storytellers
Johnny Óg Connolly's new song cycle for Liam Ó Maonlaí captured a range of atmospheres, from mystery to melancholy, writes Toner Quinn.
It's never enough of course, but the Arts Council's Deis scheme continues to fuel interesting projects that are opening up new possibilities in traditional music, from the successful launch of the inaugural Achill International Harp Festival last October to the live recording of This is How We Fly's second album in January, and many more projects before and after. 
The latest to come to fruition is An tEarrach Thiar, a cycle of 12 songs composed by the Galway accordionist Johnny Óg Connolly for the singer Liam Ó Maonlaí.
Setting the poetry of Aran Islander Mairtín Ó Direáin (1910–88) – who lived most of his life in Dublin – Connolly premiered the work at the Éigse an Spidéil festival at the beginning of March and it received two more performances at Seanscoil Sailearna in Indreabhán (24th) and An Taibhdhearc in Galway City (25th).
Connolly is now well established as a composer of traditional music, his latest album, Siar (2016), a collection of almost entirely newly composed work (a selection of which was performed in the first half of the Taibhdhearc evening, with Pádraig Ó Dubhghaill on guitar, the highlight being Connolly's skilful reel version of the jig, 'The Connaughtman's Rambles'); and he previously wrote a successful suite of music for several traditional musicians, Sruth, with whistle player Mary Bergin, that was also premiered at Éigse an Spidéil. 
But An tEarrach Thiar is an even more ambitious affair, moving beyond instrumental dance music, engaging with the open, emotional words of Ó Direáin – and the intensity of Ó Maonlaí's singing and piano playing – and running them into a different mould. In his ciogal amhrán ('song cycle'), Connolly is attempting something new in traditional music, which is to fold the essence of the German lied tradition with modern traditional music composition – with Ó Maonlaí gripping the oars at the centre.
Apparent immediately is how Connolly's style of tune composition can be heard in his settings of poetry. His intricate melodies for the 12 songs – intense clusters, a feature of many sean-nós songs, followed by angular intervals, from baritone to almost falsetto for Ó Maonlaí – tend to correspond with his tunes. When heard on voice, and combined with the shortish lines of Ó Direáin, but often pronounced without a pause, it wanders at times, between mystery and melancholy. In the opening piece, 'An tEarrach Thiar' ('Spring in the West'), and 'Neambhuaine' ('Impermanence'), it worked particularly well, Ó Maonlaí punctuating the long phrases with choice modal chords.
Connolly incorporated short instrumental interludes as part most of the songs. He and Ó Maonlaí combined most effectively in 'Go Suairc a bhíodh' ('Cheerful It Was'), with the musicality of Ó Direáin's last lines in each verse – 'seal gairid… seal gairid … seal fada' ('for a short time.. for a short time… for a long time') – coming to the fore. 
The brilliance that Ó Maonlaí can bring to a song as a solo performer, however, was key to the performance. Last October in Dublin, at the premiere of Philip Martin's Avoca, he gave the evening its stand-out moments, and here again, he slid his incredible style and singing carefully into Connolly and Ó Direáin's compact works. 
The final song, 'Slán Leis na Seanchaithe' ('Goodbye to the Storytellers') was a slightly more extended piece, and all the more powerful for it. The poem reflects on Ó Direáin's identity as a Gaeltacht man, yet his life then was among English speakers, and when the last of his older community is gone, he concludes, even the Irish language will have no life ('Beidh an Ghaeilge féin gan bhrí').
Connolly commented on the irony of this line at the beginning of the concert, given that most of the audience at An Taibhdhearc were Irish speakers, and, although the piece returns to the first poem again as a moment of hope, there was a sense, nonetheless, as he and Ó Maonlaí drew out the last few deep, arresting notes, and a sadness about Irish started to seep into the room, that there was a truth to Ó Direáin's lines. And as German lieder always does so well, 'Slán Leis na Seanchaithe', too, captured that sense of loss perfectly.
For more on Johnny Óg Connolly's music, visit https://goo.gl/h9UE7T
Published on 30 March 2017
Toner Quinn is Editor of the Journal of Music.