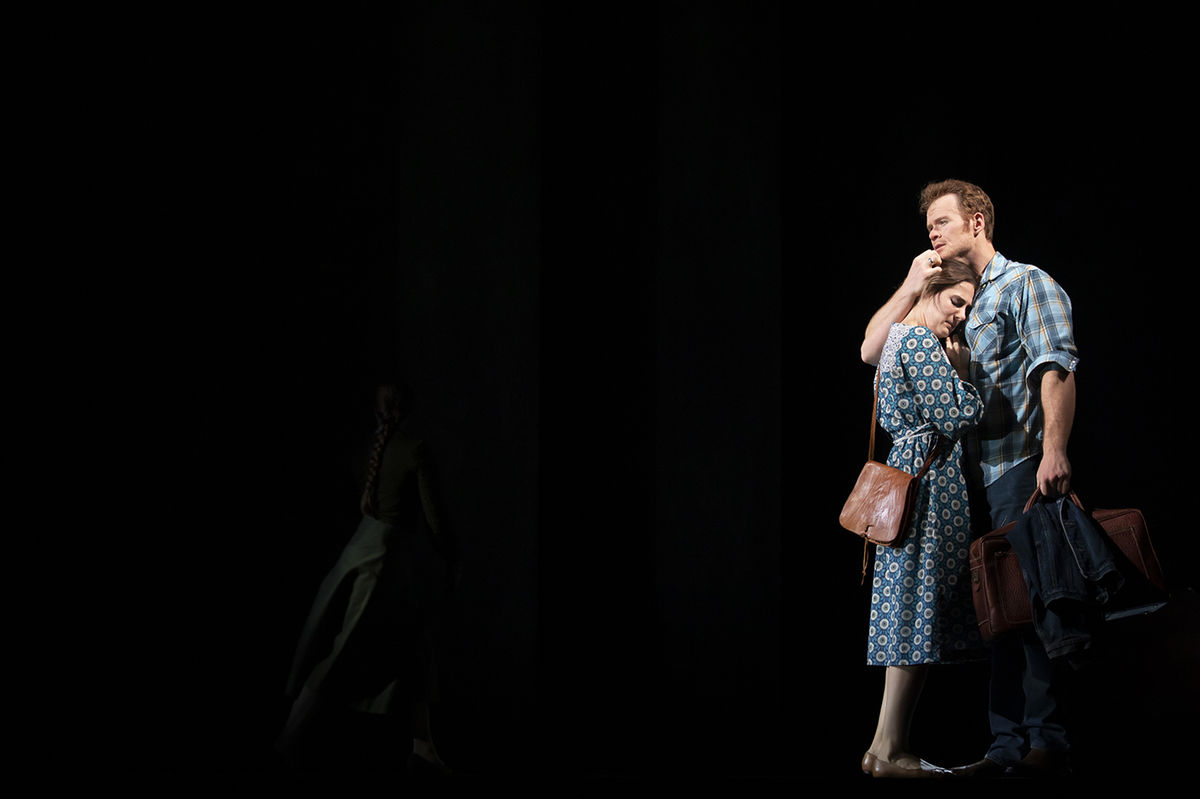 Extreme Encounters
American composer Missy Mazzoli's 'Breaking the Waves' received its European premiere at the Edinburgh International Festival in August. James Camien McGuiggan reviews.
Missy Mazzoli, not yet forty, has now written three acclaimed operas, so the European premiere of her second, Breaking the Waves, at the Edinburgh International Festival (King's Theatre, 23 August), is a cause of some excitement. Opera Philadelphia gave the work its premiere in 2016.
Mazzoli is a New York City-based composer writing firmly in the US 'post-minimalist' style: tonal harmony, driving quaver-based rhythms and pitched percussion are foundations of her language. She diverges from others in this school, though, in her affection for melody and the human voice: as well as her operas, she has written a fine song cycle, Vespers for a New Dark Age (2015).
Breaking the Waves, like her first opera Song from the Uproar (2012), tells the story of a young woman, but, at over two hours, it is twice as long. It also occupies a similar musical territory: though it expands on the piano/wind/electric guitar-based palette – strings and brass sections are added – those colours are still prominent. The emotional range, too, is similar: plaintive and distant, but not without occasional hot outpourings of emotion, especially in the voices.
Encounters
The opera (with a libretto by Royce Vavrek) is based on, and closely follows, Lars von Trier's 1996 film of the same name. It tells the story of Bess McNeill (sung with innocence and intensity by Sydney Mancasola), a young woman in a Scottish Highlands village who marries Jan (Duncan Rock), an oil-rig worker. The first act depicts their fervid love for each other around the wedding, but Jan is soon paralysed in a work accident, and he asks (or bullies) Bess to have sex with other men and recount her encounters to him. Bess accedes, and as Jan's condition worsens, her encounters, which she thinks are keeping him alive, become more extreme and dangerous.
This is brutal subject matter, but the story is not really about sex or even about gender: it is about institutional and personal morality, magic and science, power and helplessness, and the depths to which love and hope will send us. Mazzoli sees this. The opera opens with Bess singing a paean to Jan; this aria captured the mix of optimistic (even manic) passion and how it is quashed by chance and society, a duality that pervades the work. The local church elders, some of the repressive agents, were represented by a small male choir, and though the use of a (synthesised) church organ is hardly subtle, the writing was evocative: robust while also ominous. Some of the chamber writing, especially in the instrumental passages, was lonely without being inhuman, well-suited to the Skye landscape where the drama takes place; I was especially struck by some great quiet moments for the brass in Act 1. And the final scene, possibly the strongest of the work, had a shivering intensity.
It is at catching these delicate emotional currents that Mazzoli is at her best. Some of the ideas, though, were more puzzling. The text-setting, for instance, was often at odds with the natural rhythm of the text, and what seemed to be unpoetic lines were given musical prominence. Bess sings a few times about how she loves Jan's 'prick', but the 'i' was too thin a syllable to sustain the full lust it was supposed to express. It sounded as if Mazzoli chose that word (rather than, say, the more open 'cock') just because it was in the film. Again, at one point Bess' best friend and sister-in-law Dodo (Irish-Canadian mezzo Wallis Giunta) says of Bess that 'she's not right in the head'; Mazzoli makes this very deliberate. Perhaps she was drawing attention to how aesthetically and morally ugly the phrase is; however, I could not hear that criticality: once again, it sounded as if she chose the phrase simply because it was in the film. The text-setting and music sounded insensitive to the offensive overtones. These anomalies in the text-setting are unusual for Mazzoli: in her Vespers for a New Dark Age, she is more comprehensible. Whatever the reason for it, I found it jarring.
Hurried away
Von Trier's Breaking the Waves is slightly longer than Mazzoli's adaptation, and it is ambitious indeed of her to try to cover the same journey in less time, given the nature of opera to stretch moments out. Mazzoli responded by covering ground fast. There is a scene where Bess and Jan consummate their marriage in a toilet in the wedding hall. This is fertile musical ground, with its discordant emotional tenors of desire and disgust, shame and the forgetting of self, transcendental love and carnal transportation. But it was just opening up when the plot hurried it away. At another point, Bess and Jan were having phone sex: he was in the centrepiece of the stage (now the oil rig in Soutra Gilmour's impressively versatile set), and she was at the edge of the stage by a phone booth. As they got lost in their imaginings of each other, the distance between them collapsed in a triumphant affirmation of the capacity of emotional connection to overcome physical distance. There was a powerful synergy here between Mazzoli's music and Tom Morris' direction, but again, it ended too soon, trailing off into the next scene.
Breaking the Waves unmistakeably bore Mazzoli's mark, and her singular sound is able to express some rare emotions. But the singularity is double-edged: I said above that Bess' opening aria about Jan was appropriately ominous; but what it was not, and what it should also have been, was a love song. Breaking the Waves rarely felt fully alive to the individuality of the characters and moments it depicted: its stylistic coherence too often became an emotional flatness. The story it tells is rich and fey, but despite occasional moments, and despite superb efforts from the set designer, director, cast and orchestra, the opera remained on a more mundane plane.
Visit http://www.missymazzoli.com.
Published on 5 September 2019
James Camien McGuiggan studied music in Maynooth University and has a PhD in the philosophy of art from the University of Southampton. He is currently an independent scholar.