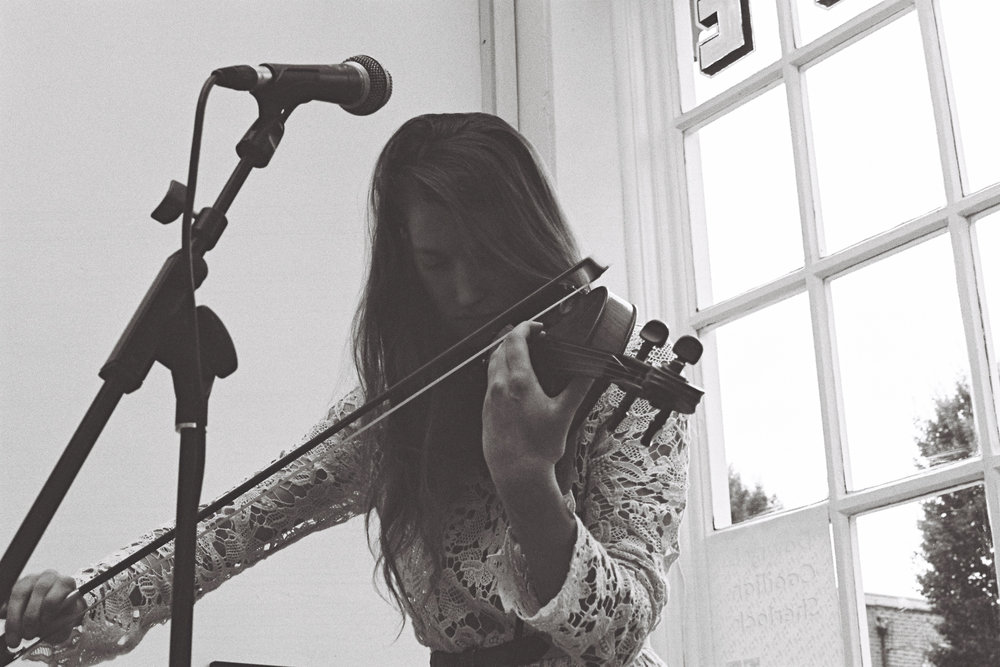 Torch Carriers
The first Quiet Lights festival of folk showcased a broad range of musical expression. Don O'Mahony reviews a double-bill of Dowry and Claudia Schwab.
Quiet Lights, a new festival run by Jon Pearson that took in various venues around Cork City on 7–9 September,  aimed to shine a light on the new wave of Irish indie and folk talent. In artists like Cormac Begley, Caoimhín Ó Raghallaigh, Lisa O'Neill and Slow Moving Clouds, it showed what a broad range of musical expression can be found under those umbrella terms. Here are artists committed to following their own particular pathways regardless of the amount of illumination thrown their way. 
There's also something else interesting at play. Of the fourteen artists playing the festival, be they solo or groups, the majority – nine – were female. Given the lack of back-slapping or crowing about this we might presume it was an unconscious decision, but the big takeaway from Quiet Lights is that when it comes to the new sounds in these genres, women are very much torch carriers – a premise borne out by the calibre of musicians such as Inni-K, Elaine Malone, Lucia & Maria, Landless, and Radie Peat and Katie Kim. 
The only things linking the double bill of Éna Brennan and Claudia Schwab is that they were born on the mainland of Europe (the former in Belgium, the latter in Austria) and both play the violin and use loops. On 8 September at the Roundy venue, their distinct sounds made for an intriguing pairing. 
Elegiac grandeur
Previously known as a session musician and for her work with orchestras and choral ensembles, Éna Brennan has played with bands such as Tandem Felix and Bad Sea before striking out on her own in the last two years as a solo artist under the name Dowry. 
Introducing her first release proper, 'In É', Brennan describes the song's origins as an exercise in improvisation she would undertake at the beginning of each set to calm herself. It says something about Brennan's growing ease with solo live performance that 'In É' now finds itself at the very end of her set. Instead, she opens her performance with what she describes as 'two-and-a-bit songs', an extended intro followed by 'GP' and 'Numb'.
Demonstrating her approach of building songs  in layers,  she began by playing some gentle acoustic guitar and accompanying it with bubbling electronic effects, before introducing sharp violin riffs and then adding a dreamy melody. With the addition of her voice, soon looped and manipulated to such a degree it becomes a babbling disembodied cacophony, it acquires an elegiac grandeur.  
Not content to simply fade, she begins to pare back elements and this contemplative piece segues into something more tension-filled as she plays some spidery finger-picking guitar over the stabbing violin. This sets up an ominous tale of loss, which Brennan sings with lullaby-like sweetness. It's an approach that's not too far removed from that of Lisa Hannigan, with whom she has recently collaborated.  
One feels that Brennan could easily deliver a full set of equally amorphous, stream-of-consciousness material and keep it compelling. The rest of her set sees Dowry prove herself as adept a singer of atmospheric acoustic guitar-led ballads as she is a composer of minimalist pieces.
Austria, Bulgaria, Ireland, India
Born in Austria and based in Sligo, Claudia Schwab's music is informed by travel. Her set leaped seamlessly from droning Bulgarian folk to Indian ragas  but throughout was one regional constant; introducing her opening song, she declared: 'I'm going to do some yodelling for you right now, because I'm from Austria.'
The song in question, 'Jodlfunk', taken from her 2014 debut album Amber Sands, blends traditional Irish reels and jigs with a funky groove and is sung lustily, yodels and all. For Schwab, yodelling is as essential and versatile a tool of expression as her violin playing.
It's a refreshing contrast to Dowry's more intense moments. Sticking with that album, Schwab followed it with the maze-like 'Like Lisa'. Her idiosyncratic approach is enriched by her refusal to recognise boundaries. A meditative song inspired by her time studying traditional Indian violin appears to allude to Led Zeppelin's 'Kashmir' in the precisely plucked chords towards the end. 
Further highlighting these magpie-like tendencies, Schwab closes with 'One Day', a track from her 2017 Attic Mornings album that grew out of a jam she had with Sligo hip-hop outfit The Way Up. Stripped down to its lurching bow work, it highlights her beautiful vocals. In tone, it's a bittersweet conclusion, but it sets the seal on a triumphant performance. 
Published on 13 September 2018
Don O'Mahony is a freelance arts journalist based in Cork.