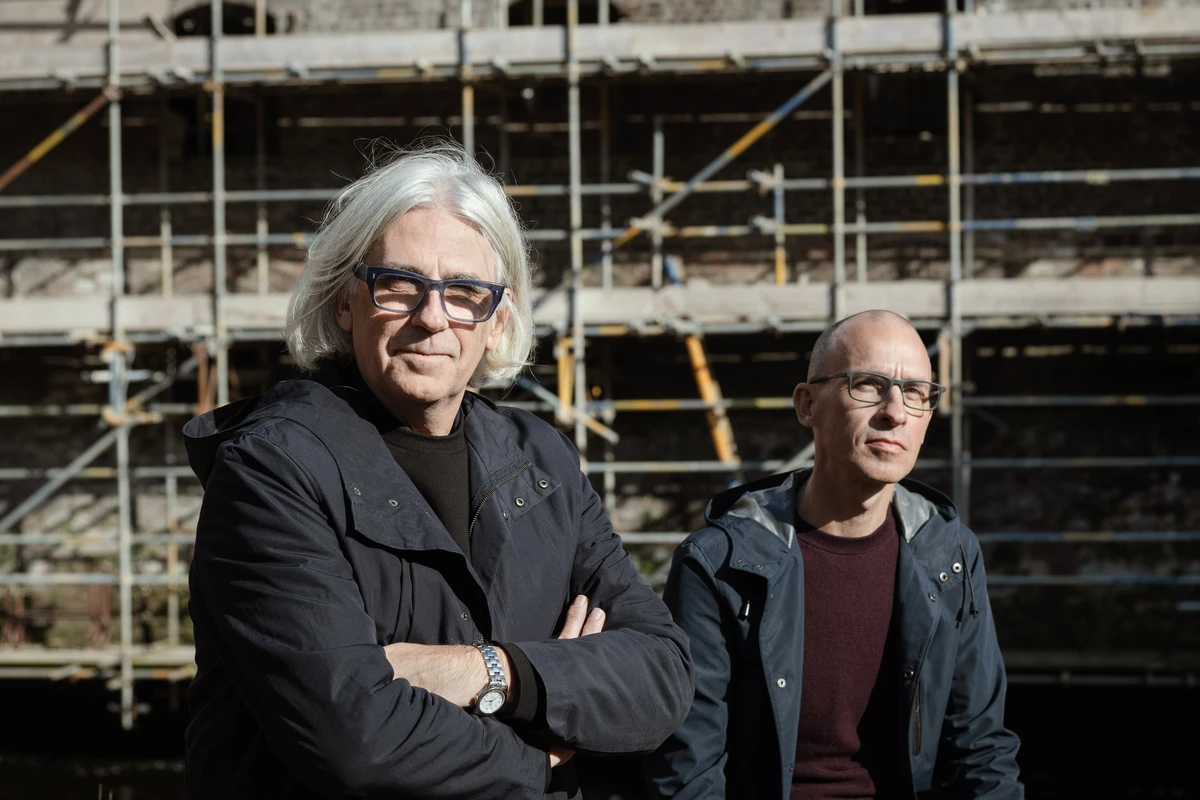 Through the Darkness
Cork house music duo Fish Go Deep have recently released a new album, 'This Bit of Earth'. Don O'Mahony reviews.
The DJ duo of Greg Dowling and Shane Johnson have enjoyed a career of great longevity and influence. The long demolished Sir Henry's building in Cork may have had a storied history as a live music venue but it was the pulpit from which Dowling and Johnson preached the house music gospel. Their Sweat residency, from 1988 to 2001, cemented the venue as a byword for dance music hedonism. Over the course of thirty-plus years the pair continued the vibe through a variety of venues. When people say that Cork is a house town it is Dowling and Johnson who are the architects.
Since the mid-90s they have produced music as Fish Go Deep, the name inspired by a record shop they ran in Cork's English Market. Their 2004 debut album with vocalist Tracey Kelliher, Lil' Hand, was smooth and soulful, and spawned an anthemic smash single in 'The Cure and the Cause'.
Those approaching their latest long-player, This Bit of Earth, for a similar selection of broadly appealing tunage will be puzzled, but Fish Go Deep have always been ones to surprise. Their second album, 2012's Draw the Line, was a mix of moods and sounds, often downbeat, sometimes abstract, and with little concession to casual fans of its predecessor. And anyone who pays attention to their vast discography of EPs and 12" releases will know they have often deviated from the deep house template.
In some respects the expanded soundscape of This Bit of Earth is not a radical departure for the duo. The smoky chillout groove of 'Winding Path' from their debut would sit quite comfortably on their new collection. 
I guess one also shouldn't be surprised that this collection of songs is less concerned with the dancefloor, given the lockdown. If anything, it's an album that could only have been made in the quiet throes of a global pandemic. Its recourse to jazzy motifs and dub infused moods create a space for contemplation, a place in which to commune in isolation. 
Bitter earth
The title track samples Dinah Washington, but where the great lady of jazz and blues sang of 'this bitter earth', Fish Go Deep's title causes us to consider her utterance as 'this bit of earth'. The listener fills in the gap, as it were, but the effect is lovely. Ultimately, Washington sang of finding hope in despair, and, in this version, by buoying her dreamy words on a looping double-bass line and adding a sprinkle of piano, a pinch of vibraphone, soft strings and echoey horns, Fish Go Deep create something wistful that seems to drift upwards, steadily ascending until it feels as if it was on a celestial plane looking down on this old ball of blue, white and green. 
It effectively sets the tone for the rest of the album, not just in mood alone but in both the presence of traditional or organic instrumentation and spontaneous sounding electronica. 
Synths are used throughout this record in a much looser way, such as on 'Alice on Jupiter', an atmospheric instrumental interlude that is surely referring to the Roland Jupiter-8 synthesiser. And the murky, eerie twilight of 'Back Trace Dub' is accentuated by the presence of a drowsy piano and threatening strings. 
The compressed bass on 'The Sweetest Sound' is a reminder that these are electronic musicians, but even that feels secondary to the sweetly crooned vocal and the decoratively weaved sound of classical guitar. 
'Blue Sky' harks back to an 80s electro sound, but punctuated with more traditional sounding drums. That track and the following 'High as Scaffold' seem to bear the hallmarks of Squares, their side-project with West Cork-based musician Andrew Phillpott, which sees the trio create improvised jams on analogue and vintage kit.
'High as Scaffold' feels like the album's centrepiece. Its construction is 100% synthesiser but the mood is euphoric and jazz-like. It's a bubbling and undulating terrain of steady call and response synths, newly emerging textures and repeated motifs smoothly segueing into each other and embellished by a gruff and enigmatic male vocal. 
The use of a similarly ambiguous vocal sample features at the beginning of 'I Could See'. Whoever this narrator is, he was blind and now he can see.
On the surface it's a hopeful tale, but much like Dinah Washington's rose dulled by dust, there is a niggling feeling that something has been lost, no matter how upbeat the tune. This Bit of Earth may be a record that points to the light in the darkness, but there is a darkness, and it's important to remember that, too.
The slow staggered beginning of the closing track, 'Culatra Ferry', which is an actual ferry in the Algarve, feels like an emerging – blinking – into the light. Based around a modular pattern, languid drumming, woozy dulcimer and melodica-like tones it sounds like a rickety old ferry cast happily adrift.
You can practically bathe in the warmth, but you also feel like you've gone through something to get here.   
This Bit of Earth by Fish Go Deep is available to purchase on limited edition 12" vinyl on Bandcamp. Visit https://fishgodeep.bandcamp.com/album/this-bit-of-earth
Published on 17 June 2021
Don O'Mahony is a freelance arts journalist based in Cork.