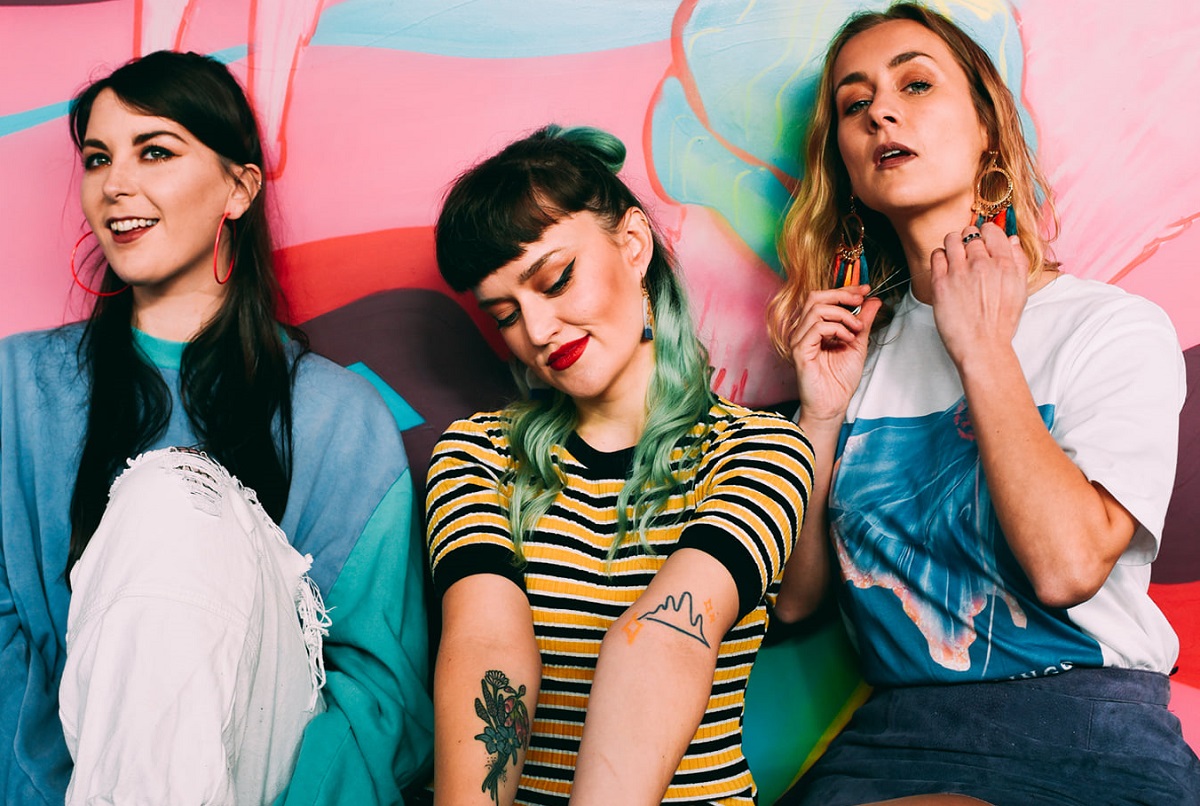 A New Sense of Play
Wyvern Lingo's second album 'Awake You Lie' was released last week. Andrea Cleary reviews.
What is it about harmony that – to use a modern phrase – sparks joy? There's a satisfaction in hearing individual voices contributing to a larger sound, and to vocal harmonies in particular, that has enchanted us for centuries. As we move into spring, traditionally associated with hope for renewed life, at a time when togetherness is a faraway concept, the warmth of harmony is comforting. On Wyvern Lingo's second album, Awake You Lie, it's a tonic.
The Bray trio has been producing harmony-driven music since their debut Letter To Willow EP in 2016, a guitar-driven, soulful introduction to the music of multi-instrumentalists Caoimhe Barry (vocals, drums, guitar), Karen Cowley (vocals, synth, bass) and Saoirse Duane (vocals, guitar). In 2018, the band released their long-awaited debut album, the self-titled Wyvern Lingo, to critical acclaim. The Choice-Prize nominated debut mixed R&B, soul and radio-friendly pop, and served as a strong introduction to the kaleidoscopic world of Wyvern Lingo.
On Awake You Lie, the harmonies and soul persist, but the sound has evolved into something less pop-driven and more diverse. Vocals, instruments and songwriting duties have always been shared within the group, and on this record, the trio has taken on production roles as well. This second album was written before the pandemic hit and reflects on the social and personal ramifications of twenty-something life both in Ireland and abroad. It's also an album that celebrates togetherness. It's a way, the band has said, to comfort one another and reflect together: 'It's about being in your late-twenties when all the pieces are starting to settle into place and you worry whether or not you've made the right moves'.
The catharsis of getting out
Lyrics of suffering in a city imbue the track 'Sydney' with melancholy, and while musically understated, it grooves with intent towards an eruption in its final moments, basking in the catharsis of getting out, even if it's just the thought of it for now. 'And I know that this won't be the kind of love you want right now / But it is yours to hold when the night is burning out,' goes the chorus on the lush 'Aurora', before a delicious guitar-solo-driven outro that warps and manoeuvres around the trio's backing harmonies in an explosion of emotion. Credit, in particular, needs to be given to Duane's guitar work on these two tracks, as well as the wonderful 'Full Height': I have been wondering in recent years where all of the great guitar solos have gone – it seems we've found them.
The band are equally  captivating when it comes to the acoustic-driven tracks on the record. 'Rapture' places the focus on vocals and lyrics over a beautiful supporting piano, while 'Only Love Only Light' opens the record with a statement of intent: the three women's vocals in isolation, the sound of birdsong grounding them through the experience together. There is meticulous attention paid to the production of the record; vocals are layered and built into vast, choral melodies, playing with darkness and light. These are less straightforward rock or soul songs, and more compositions of complex melodic themes that retract and expand like a living, breathing beast.
Closer 'In Colour / On The Mend' is a twofer that takes it's time, building on a lo-fi live-sounding arrangement of vocals, expressive guitars and hints of jazz-infused synth, before melting into a dreamscape of gentle, ethereal vocals while ominous tones circle above. It's another moment of catharsis, expressed brilliantly through this unique blend of gospel-inspired vocals and rich instrumentation before the album closes the way it began: the three members singing acapella, sounding somewhat renewed now after the journey.
Awake You Lie is a confident record from a band making their best work, and loving every moment of doing it. It's a moment of calm after the storm of their twenties, delivered at a time when the rest of us need it most. With a strong sense of play, the band giddily embrace musical influences regardless of genre, be it psychedelic rock, jazz or R&B. The album is lush, overflowing with ideas, imagery and soul. The vocals are foregrounded, yes, but here we find Wyvern Lingo sound more comfortable than ever as experimental producers.
 To purchase Awake You Lie, visit www.wyvernlingo.com. 
Published on 4 March 2021
Andrea Cleary is a freelance music and culture writer based in Dublin.