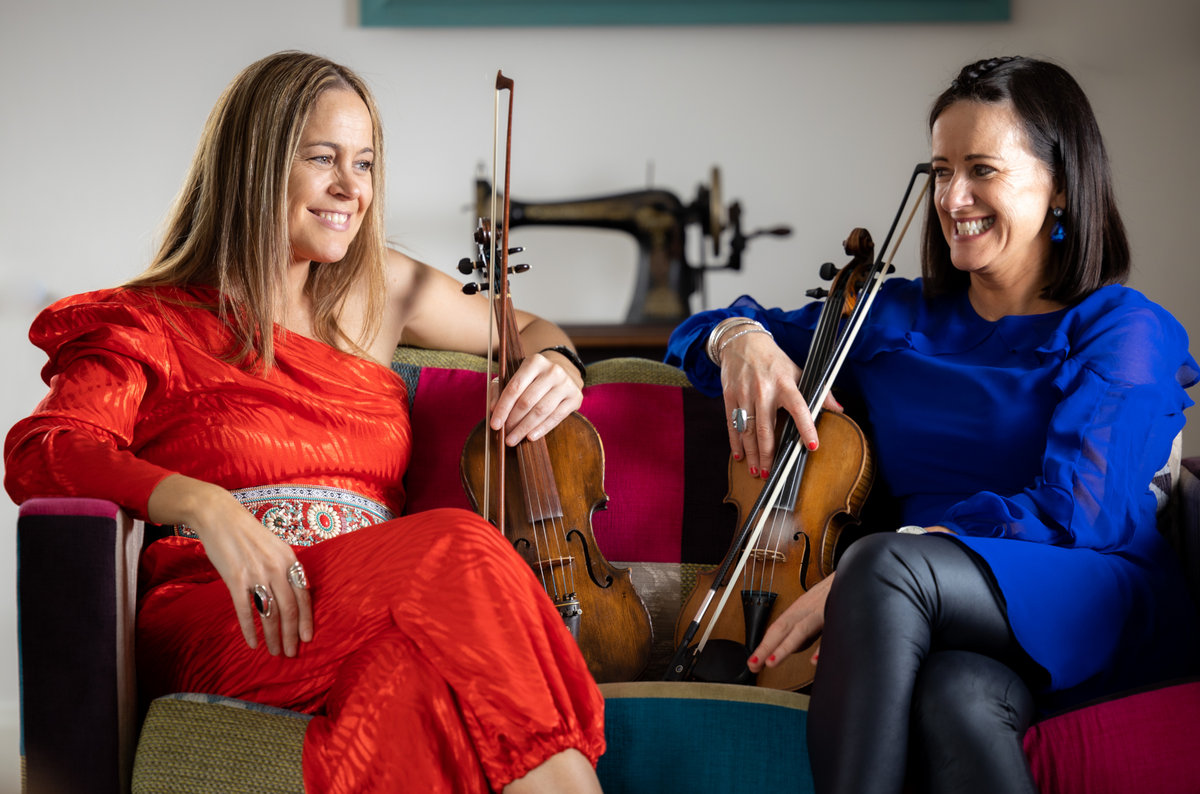 Delving Deep into the Tunes of Paddy Fahey
Galway fiddle players Liz and Yvonne Kane have recently released their fourth duet album together, 'In Memory of Paddy Fahey'. Adrian Scahill reviews.
The Kane sisters, Yvonne and Liz, fiddlers from Letterfrack in North Connemara, will be familiar to many for their dynamic duet playing. Together they have released three well-conceived, very well-received, and (in my case) well-listened to albums. It's been all of twenty years since the first of these, The Well-Tempered Bow, and twelve since their previous album, Side by Side. Given the longevity and quality of their work together, I don't think it's remiss to think of them as one of the classic fiddle duets of Irish traditional music; their energy reminds me of the 78s made by Paddy Killoran and Paddy Sweeney, and their close synchronisation recalls the accuracy and finesse of Andy McGann and Paddy Reynolds. They are joined on this new album by regular partner John Blake, who has a skill of finding satisfying chords for these unorthodox and new tunes.
The sisters have been indelibly linked with the famous East Galway composer Paddy Fahey, and have already recorded many of his tunes on their previous albums, as well as appearing on stage with him when he was awarded the Gradam Ceoil for Composer of the Year in 2001. Fahey passed away in 2019, and as this CD is dedicated to his memory, his music is to the forefront here. Fahey's music is sometimes regarded as somehow emblematic of East Galway, and the waywardness of the music's modal meanderings can easily act as a musical metaphor for the region. As Claire Keville described it in the Journal of Music in 2019: 'Every time you would hear a tune that would grab you, it invariably would be a Fahey tune. It's the strange, beautiful tonalities of East Galway. They're so lonely and plaintive.' And although the Kane sisters are from the other side of the county altogether, their playing is sympathetic to this lonesome quality, while also imbuing the music with an impassioned drive and lift.
It's well known that Paddy Fahey generally did not give any titles to his tunes, meaning there are fourteen tunes here all simply called 'Paddy Fahey's'. It would have been useful if the tunes were identified by the numbers used in Maria Holohan's thesis on Fahey's compositions, to help navigate the sets. (Perhaps these numbers should get the same recognition as the Bach BWV catalogue numbers, or the Mozart Köchel numbers.) For instance, the opening set begins with reel No. 13 in Holohan's dissertation, with the Kanes playing the alternative second part that Fahey composed. This is followed by one of his more common reels (No. 4), although saying that it still would be far from being a session standard. In fact, given that they've recorded a fair amount of his tunes on their previous albums, the fifteen Fahey compositions here tend to be the less well-known ones, and I doubt they would be in the repertoire of most musicians. The reels are mostly in the classic Fahey style: there is a lot of exploration of the liminal space between different modes (or between major and minor), and an approach to melody that is rarely satisfied with routine shapes, having a complexity and expansiveness that is also informed by the instrument. I was particularly struck by the second tune of track 2 (No.23 in Holohan), which is a classic G minor to G major Fahey reel, albeit with an unusual use of an F-sharp in the opening 'minor' part, rather than the more typical modal framework he employed. The two tunes on track 8 (Fahey's No. 14 and No. 26) are also masterful for how the melodies weave between different modes. There are several of his jigs played here, including the deceptively simple Fahey's No. 9 (the second tune on track 3), which although it doesn't have Fahey's usual modal inflections, has a quirky and idiosyncratic melodic shape. The Kanes are great advocates for this music, being totally at ease with its demands, and their energetic playing really brings out the rhythmic impulse of the tunes.
Fiddlers and composers
As well as Fahey's tunes, there are several sets that delve into the music of other fiddlers and composers: Brendan Mulhaire's 'Stars and Stripes', with its obsessive rolls and angular phrases, Seán Ryan's flowing 'Maura Connolly's', and tunes from Leitrim fiddler Joe Liddy and East Galway musicians Paddy Kelly and Eddie Kelly. 
Both Liz and Yvonne have also shown themselves to be skilled composers, and there is a good selection of their tunes here. They've obviously internalised much of Fahey's style over the years, and their tunes are also similar to those of the other great fiddler composers (Ed Reavy and the aforementioned Ryan and Liddy come to mind). They use the full range of the instrument, revelling in sweeping phrases and large-scale arcs of melody, as in Liz's reel 'Emily's Buzz'. They also inhabit the same plaintive tonescape, concentrating on minor and modal tunes, often with subtle shifts of key as in 'Reel for Saileog'. The other characteristic the Kanes' tunes share with their predecessors is their intricacy, as with Yvonne's 'Gentleman Johnny': these are – like Fahey's compositions – tunes which challenge the musician, which demand listening and attention to the performance. A real standout is Liz's 'The Welcome Call', which is a powerful tune with a punchy, fiery rhythmic drive. I also really enjoyed the switch into jigs after the reel 'Emily's Buzz'; the first of these, 'Johnny Phádraic Phíotair', named for the late Johnny Connolly, is remarkable for how it manages to evoke his style of melodeon playing. There are a number of airs and slow pieces too, the most effective of which is 'Falling Snow'.
One thing which is missing from the album were some more notes about the tunes. For instance, the set including 'Grandad's Waltz' would seem to have personal associations with their grandfather and teacher, Jimmy Mullen. This aside, In Memory of Paddy Fahey is a fine tribute to his music, and will doubtlessly influence musicians to look again at some of these less familiar tunes, and indeed to take up some of the Kanes' own compositions as well. It's also a tremendous exhibition of fiddle playing in its own right.
In Memory of Paddy Fahey is available to purchase on Bandcamp. Visit https://thekanesisters.bandcamp.com.
Subscribe to our newsletter here.
Published on 21 September 2022
Adrian Scahill is a lecturer in traditional music at Maynooth University.