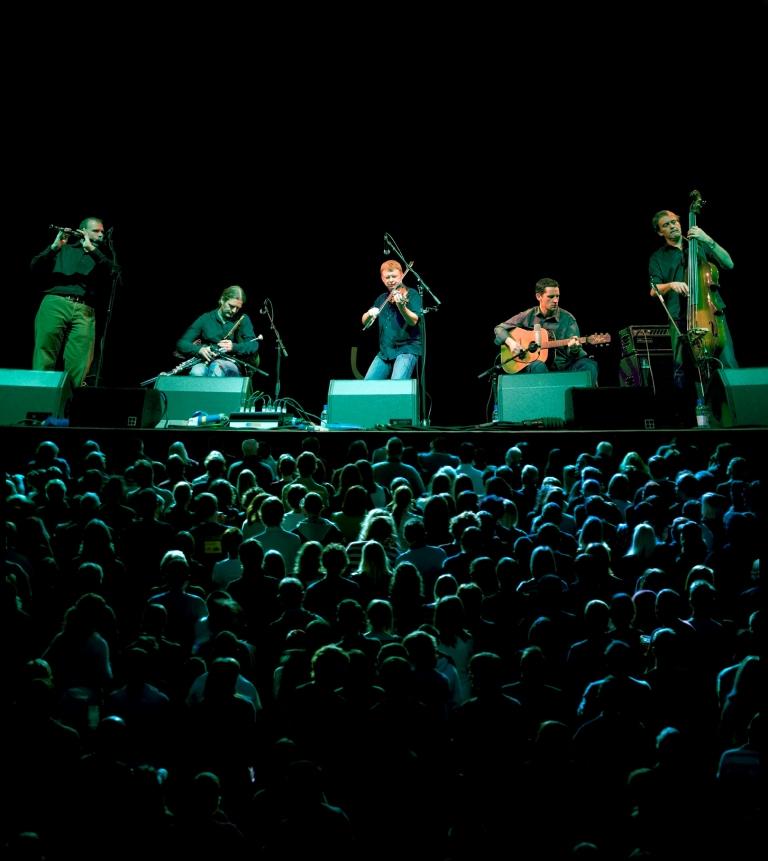 Lúnasa With RTÉ Concert Orchestra
A concert based on orchestral arrangements of some of Lúnasa's most celebrated sets performed with the RTÉ Concert Orchestra is to be part of an international conference on Parkinson's disease and movement disorders.
Lúnasa in concert. Photograph: Con Kelleher.
In an unexpected juxtaposition later this month, Lúnasa are playing a full concert with the RTÉ Concert Orchestra in the National Concert Hall as part of the sixteenth International Congress of Parkinson's Disease and Movement Disorders which is taking place in Dublin from 17 – 21 June.
The event, which is open to the public and taking place on Tuesday, 19 June, is called 'Music, Movement and the Brain', with the music part being provided by Lúnasa. They will be performing some sets alone but most of the music on the evening will be arrangements of Lúnasa's music by Niall Vallely played with the orchestra – an interesting departure in an of itself.
Before the music, in what is billed as an exploration of music and movement, Professor Steven Frucht of Mount Sinai Medical Centre, New York, give a talk about the science of learning music and the effect this has on the brain.
By way of interesting aside, Seán Smyth of Lúnasa is a practising doctor himself.
Published on 7 June 2012