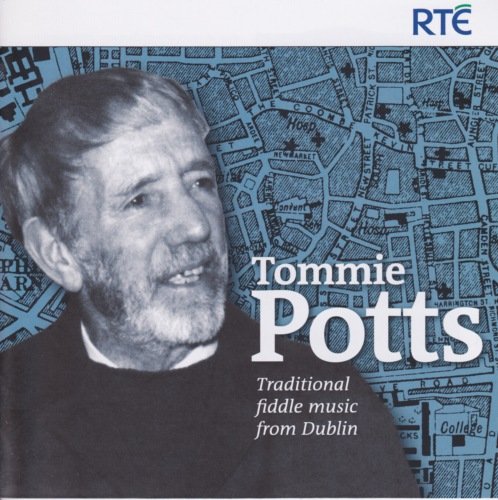 New Tommie Potts CD
Marking the centenary of Tommie Potts' birth in 1912, RTÉ has just released only the second commercially available recording of the Dublin fiddle-player who died in 1988. Claddagh Records formerly released the influential LP The Liffey Banks in 1972.
Compiled and produced by fiddle-player Paddy Glackin, Tommie Potts – Traditional Fiddle Music from Dublin contains 47 tracks of music and spoken-word recordings, including two unnamed compositions by Potts (a reel and a slip-jig).
The recordings were sourced from three collections: tapes made by Potts for flute and fiddle-player Peadar O'Loughlin in 1962–3; studio and outside broadcast recordings made by producer Tony MacMahon in 1975 and 1977 for his RTÉ Radio programme The Long Note; and tapes made by Potts in c. 1982 that are in the position of his nephew and former Chieftains whistle player Seán Potts.
The CD includes a 20-page booklet with an introduction by Mícheál Ó Súilleabháin, notes by his grand-nephew Seán Óg Potts, and archive photos of Potts with, among others, John Kelly, Willie Clancy, Breandán Breathnach, Tony MacMahon and Séamus Ennis.
Listen below to Potts' version of the reel 'The Humours of Scarriff'. For more information visit rte.ie.
Published on 9 December 2012