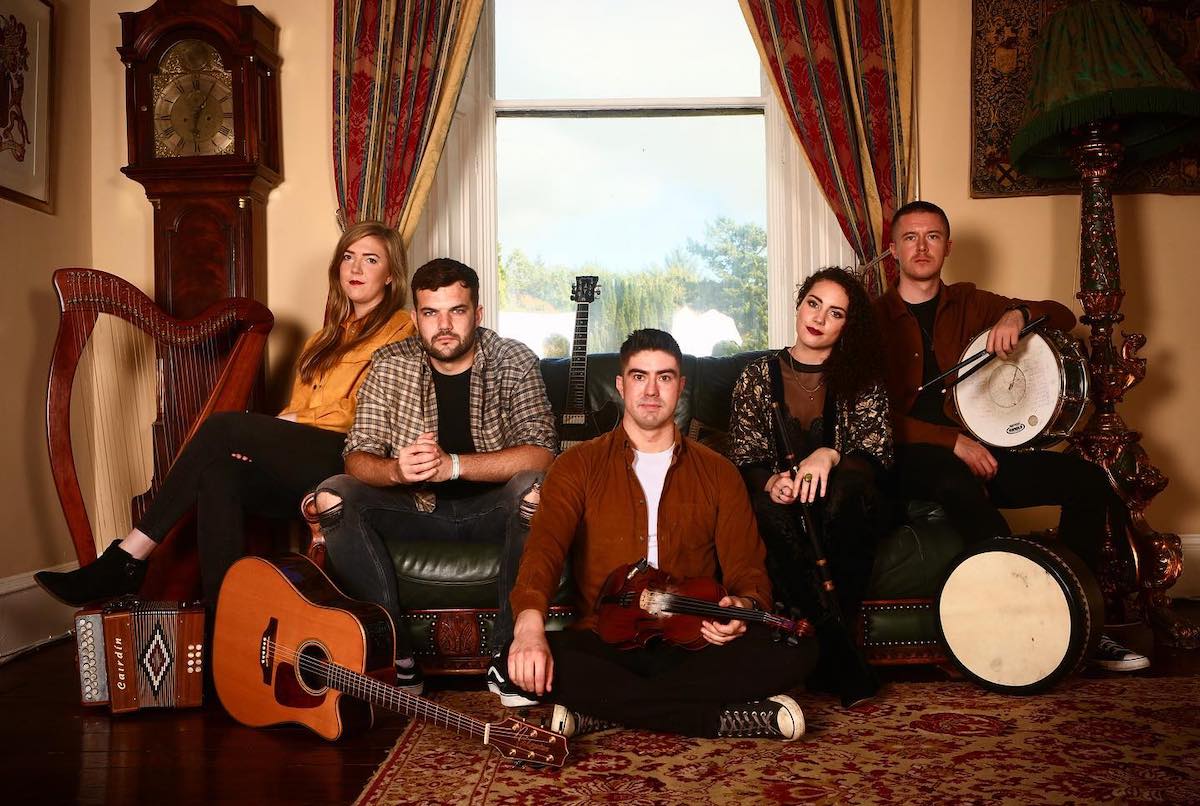 New Releases of the Week (7 January 2022)
A round-up of recent releases including Pádraic Keane, Myles O'Reilly with Rónán Ó Snodaigh and Richard Campell, Sarah Ghriallais, Billow Wood with Séamus Ó Flatharta, and David Stalling. To submit your music for inclusion, please email
[email protected]
.
Pádraic Keane – In Full Tune
In Full Tune is the debut recording from Galway piper Pádraic Keane, a former recipient, in 2011, of the TG4 Gradam Ceoil Young Musician of the Year award. Keane plays three different sets of pipes on the album, a Timothy Kenna set from the early nineteenth century, a 2009 Geoff Wooff set pitched in C, and a Leo Rowsome set that belonged to Keane's grandfather Tommy McCarthy. The album is a mix of dance tunes and airs and come from a range of researched sources, including 1890s recordings of piper Mici Cumba Ó Súilleabháin. Highlights include 'Gol na mBan san Ár', 'O'Connell's Welcome to Clare' written by Paddy Conneely and which uses the full three octaves of the pipes, and 'The O'Connor Don', which comes from a wax cylinder recording of blind Galway piper Martin Reilly. One of Keane's influences is the piper Seán McKiernan, who writes on the sleeve notes, 'For me, the high point of [Keane's] playing is his innate ability to lead one down a particular musical path in playing a well known tune and then bring us, unexpectedly, to unfamiliar musical corners…'. There is undoubtedly a sense of freedom in the recording, demonstrated through the melodic and rhythmic flourishes of Keane's own musical voice and the wide-ranging repertoire.
In Full Tune is available to purchase from Bandcamp: https://padraickeane.bandcamp.com/album/in-full-tune
Myles O'Reilly (Arbutus Yarns) featuring Rónán Ó Snodaigh and Richard Campbell – A Gardener Now
A Gardener Now is a new short film by Myles O'Reilly (Arbutus Yarns) about the musical union between Irish traditional bodhrán player Rónán Ó Snodaigh, and a Northern Irish lambeg player,  Richard Campbell, where they collaborate, listen, and learn from each other. The twelve-minute film features scenes with the two musicians in Derry performing, while a poem by Ó Snodaigh is heard, conveying a message of growth, peace, reconciliation and hope through music and rhythm.
Speaking about the film, O'Reilly said 'I've always referred to Rónán as a Jedi bodhrán player. He's a force for the instrument, and perhaps one of its icons now. A bodhrán Saint of Ireland. Most of the time I spend with him we play music together, but on learning of Richard and his Lambeg, a traditional instrument for the Orangemen of Ulster, the filmmaker in me kicked in. Two drums from such different traditions, representing two communities that live side by side but don't often communicate with each other. I was quick to suggest we try and film the two of them playing together… I hope I've bottled the significance of these two formidable drummers from different sides of the fence, making the effort to meet, listen and learn from each other. Both enthusiastically reaching out to understand each other. This meeting sends such a strong message of peace, reconciliation and hope where words have so often failed'.
Visit: https://arbutusyarns.net/about/
Sarah Ghriallais – Idir Dhá Sháile 2: Amhráin ar an Sean Nós
This album was recorded in 1987, three years after the great Conamara sean-nós singer Sarah Ghriallais won Corn Uí Riada. However, it has remained in the archives of Gael Linn since and is issued here for the first time. Ghriallais sings eight songs, including 'Sagart na Cúile Báine', 'Eilieanóir na Run', 'Póg Bhideog' and 'An Draighneán Donn', and the album showcases her sensitive and powerful singing. Alternating with the songs are a number of fine tracks by accordion-player Johnny Óg Connolly when he was just seventeen, with accompaniment on piano by John Blake. The sleeve notes include the words of all songs.
Idir Dhá Sháile 2 is available from Gael Linn: https://siopa.gael-linn.ie/ga/idir-dh%C3%A1-sh%C3%A1ile-2
Billow Wood – If You Come Back
Alt-folk four-piece from Mayo, Billow Wood have recently released a new single 'If You Come Back', featuring sean-nós singer Séamus Ó Flatharta. The track was written by Niall McCabe and features a blend of traditional, folk and pop elements with vocals in English and Irish, including excerpts in the sean-nós style by Ó Flatharta. With instrumentation on acoustic and electric guitar, bodhrán, harp, accordion and drums, and a rolling, repetitive melody in the chorus, 'If You Come Back' is an engaging blend of old and new sounds, textures, and rhythms. Visit: www.billowwood.com/music/
David Stalling – Elemental Machinery
Elemental Machinery by composer David Stalling is the latest album from Farpoint Recordings, which has also recently issued John McLachlan's First, Izumi Kimura, Cora Venus Lunny and Anthony Kelly's Folding, and Ian Wilson's Echoes and Shadows. Stalling's album contains three new works featuring field recordings taken during a residency at the Teide astrophysical observatory on the Canary Islands in 2017. Cupula weave's zither and steel guitar around the sound of a telescope as it tracks the orbits of satellites; Quijote combines layers of guitar rhythms works with the sounds of the rotations of a telescope; and in Sun Tracker, the sound of the Pyramid solar mirror telescope tracking the movement of the sun produces a solo melody that is accompanied by harmonic textures. EL Putnam  writes on the sleeve notes: 'The repetitive quality of these compositions mimic the behaviours of machines at work, building a meditative quality that ebbs and flows with the activities of these objects, as each cycle of sound rhythmically turns to a different perspective of encounter.' Elemental Machinery is available as a special limited edition vinyl LP and on CD. Visit www.farpointrecordings.com/product-page/david-stalling-elemental-machinery 
–
To submit your music for inclusion, visit: https://bit.ly/38vquCn
Published on 7 January 2022