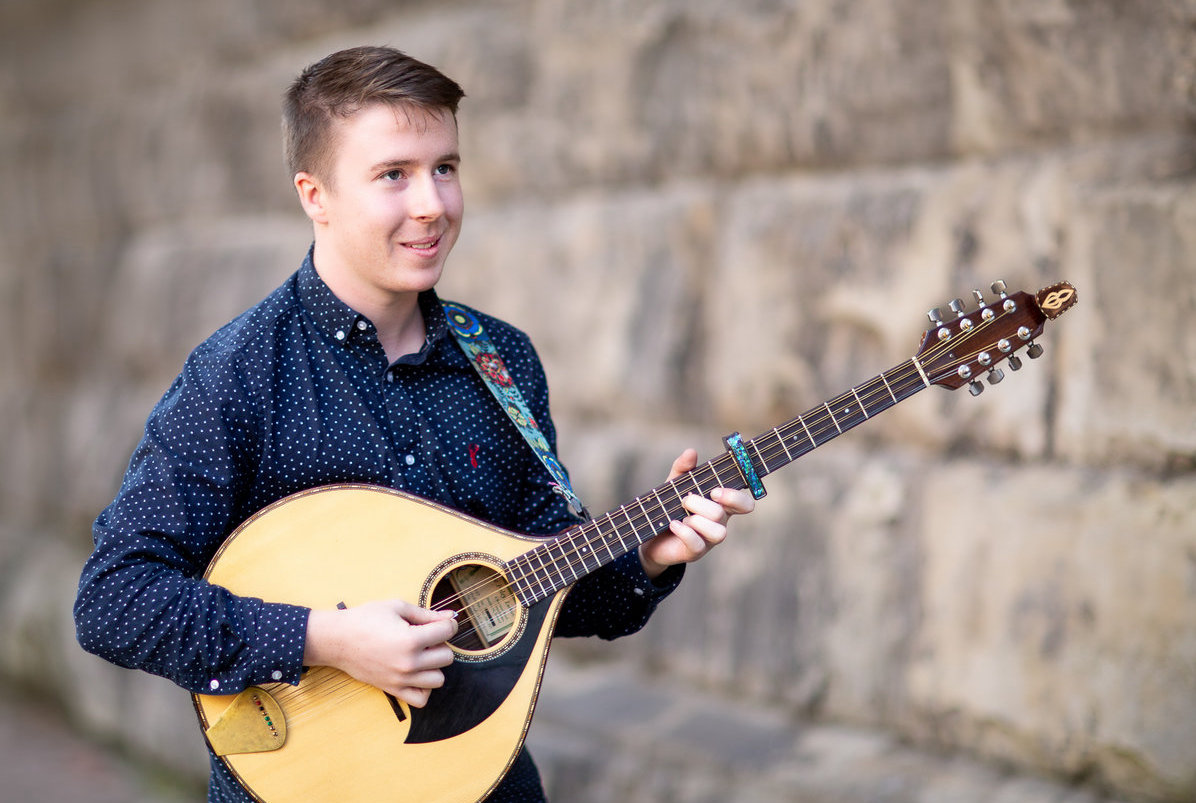 New Releases of the Week (22 April 2022)
A round-up of recent releases including Cathal Ó Curráin, Fontaines D.C., Robocobra Quartet, Dermot Byrne and Yvonne Casey, Emét, and Aoife Doyle. To submit your music for inclusion, please email
[email protected]
.
Cathal Ó Curráin – Cosán Ceoil
Cathal Ó Currain is a traditional singer, bouzouki player, fiddle player and banjo player from Gaoth Dobhair in Donegal. He previously recorded with Ciarán Ó Maonaigh and Caitlín Nic Gabhann as part of the the band The High Seas and studied music and Irish at the University of Limerick. Cosán Ceoil is his debut album and features a mix of Irish- and English-language songs and instrumentals. It's an immediately impressive debut; Ó Currain is a skilled artist no matter what he seems to turn his hand to. The songs are drawn from various local sources including his great uncle Jimmy Danny Ó Gallchóir and grandmother Neillí Dinny Ní Ghallchóir and his light tenor voice is comfortable taking on several big songs. The tunes, on which he is joined in different sets by Megan Nic Fhionnghaile, Ciarán Ó Maonaigh, Ryan Molloy, Felix Morgenstern and Marty Barry, have a real freedom and abandon about them that makes them compelling, and there are flashes of influence from John Carty. A highlight is the 'Dooish Mountain'/'O'Connell's March' set, the dialogue between fiddles and piano on 'Brenda Stubbert's' and 'Reichswall Forest', and the burst of pace into 'The Belle of St Louis' following 'Alex McConnell's'. A debut well worth listening to.
Purchase on Bandcamp: https://cathalocurrain.bandcamp.com/album/cos-n-ceoil
Fontaines D.C. – Skinty Fia
Skinty Fia is the third album from Dublin rock band Fontaines D.C., released today via Partisan Records. The ten-track album was produced by Dan Carey, who worked with the band on their earlier two records. It features previously released singles 'Jackie Down the Line' (which they performed on the Tonight Show with Jimmy Fallon in January), 'I Love You', and 'Roman Holiday', along with the brazen, monotone title track. Covering themes of emigration and Irishness abroad (the band are now based in London), this album has a serious and often dark mood to it, which feels like an organic progression from the punchy excitement heard in Dogrel (2019), and the assured confidence of A Hero's Death (2020). The poetic lyricism the band are known for remains. Last month, they were named the Best Band in the World at the NME Awards, and are currently on tour across the US, performing over Europe, the UK and Ireland for the remainder of the year. Purchase Skinty Fia, or tickets to the tour, here: https://fontainesdc.com/
Robocobra Quartet – Wellness 
Belfast's Robocobra Quartet have just released a new single and video, 'Wellness'. The track comes from their forthcoming album Living Isn't Easy, which will be released on London label First Taste Records on 17 June. 'Wellness' sees drummer-vocalist Chris W. Ryan reciting the daily routines of influencers aloud, reading from an actual newspaper article. 'There's a song by The Fall,' says Ryan, 'called Dr Buck's Letter where Mark E Smith reads out an interview by Pete Tong and there's a beautiful absurdity to it so I thought I should just repeat this article verbatim as it didn't need any fictionalising at all.' Lines include: 'When I arrive at office I fist bump every member of the team – 15 in total – and I often take a nootropic drug called aniracetam… At some point between meetings I try to take a shot of activated charcoal. They sell it at Pret now - we're so blessed in Britain.' Robocobra Quartet's mix of jazz-inflected drums, synths, hardcore bass and sax, combined with acid social commentary, continue to set them apart. 'Wellness' is hilarious and tragic in equal measure. 
Watch 'Wellness' below and visit www.robocobraquartet.com.
Dermot Byrne and Yvonne Casey – As We Feel It
Released a few months ago, As We Feel It is a collection of recent compositions by accordion player Dermot Byrne and fiddle player Yvonne Casey. It is their first album together and features just the two musicians in note-for-note duet, allowing the original tunes come to the fore. Among the compositions are Byrne's tribute to Finbarr Dywer and Joe Burke, 'Tribute to Finbarr and Joe', and an air by Casey titled 'Cnoc na Rí'. Other highlights include 'PK's March' by Byrne and a cleverly composed waltz, 'Waltz for Cáilín', by Casey. A subtle collection overall that is worth exploring.
To purchase a copy, visit https://dermotandyvonnemusic.com/
Emét – Carlin's Farm
Carlin's Farm is the debut album from indie-folk musician Emét (Emmét McGonagle). The singer-songwriter from Limavady released the EP Cheers & All the Best in March 2021, including previously released singles 'JJ Johnston' and the record's title track. Since then, the musician – whose work reflects influences of Hozier, Leonard Cohen, and Phoebe Bridgers, along with Irish and American folk sounds – moved to Calgary in Alberta, Canada. Carlin's Farm was recorded in a two-week stint at Belfast's Half Bap Recording Studios by George Sloan (No Oil Paintings) and features accompaniment on bass from Rónán McQuillan of the band Buí, and drummer Matt Sloan. The album's eleven tracks includes works such as 'The Chelsea Hotel is Closed Until Further Notice' with a peppy accompaniment of simple chords on piano; and the acoustic guitar ballad 'Scarecrow'. Inspired by The Wizard of Oz, the song touches on the artist's fear of dying in his hometown. Dealing with themes of mortality, emigration, and small-town Ireland – and taking inspiration from Irish traditional music – Emét's debut album is tender and endearing. Visit: https://itsemetofficial.bandcamp.com/album/carlins-farm
Aoife Doyle – Infinitely Clear
Jazz singer-songwriter and musician Aoife Doyle today releases her third album Infinitely Clear. The record includes previously released songs 'Strength To Be Strong', 'Clare Sky', 'They Say' and 'Love Conquers All' and features a sound built around influences of jazz, soul, R&B, and acoustic. Doyle is originally from Bray, Co. Wicklow, and is now living in Clare, where she has claims to have found her true songwriting style. 'In Clare I had more quiet time to reflect,' said Doyle. 'The lack of billboards, traffic and other superficial stimulation makes life a lot simpler. I think nature is the most primal form of creativity and living in the country and keeping a garden … you're seeing the cycle of creation from seed to plant to harvest. Watching this cycle has helped me greatly to understand the nature of creativity as well as the time, attention and care you have to give to gain a fruitful harvest. And this learning has facilitated my songwriting.'
The artist is joined on the album by guest musicians such as vocalist Margot Daly, saxophonist Michael Buckley, trumpet player Ronan Dooney, pianist Johnny Taylor, hammond organist Justin Carroll, guitarist Jack Maher, bassist Andrew Csibi, and drummer Dominic Mullan. Doyle performs tonight (22 April) in Greystones, at Derry Jazz Festival on 29 April, and at Bray Jazz Festival on 30 April. Further info: https://www.aoifedoyle.com/
To submit your music for inclusion, visit: https://bit.ly/38vquCn
Published on 22 April 2022