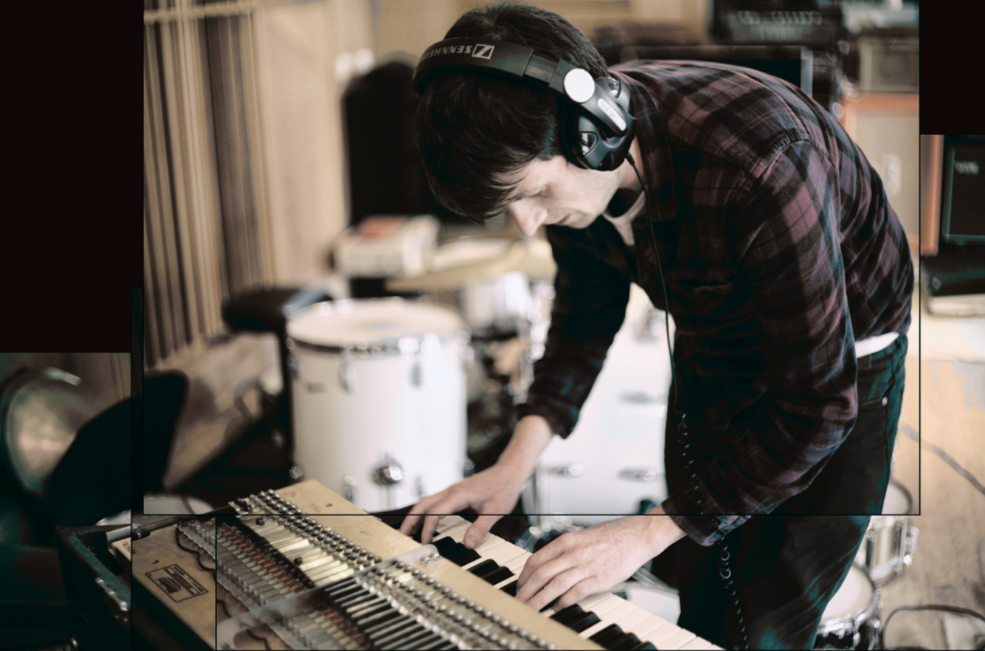 New Releases of the Week (2 April 2021)
A round-up of recent releases including Jinx Lennon, Roger Doyle, Oh Yeah Music Centre, Sam Lee, Alannah Thornburgh, and Barry O'Halpin and Crash Ensemble. To submit your music for inclusion, please email
[email protected]
.
Jinx Lennon – Pushin the Patients Round
Alternative singer-songwriter from Dundalk, Jinx Lennon, has today released a new song 'Pushin the Patients Round', a new single from his upcoming album Liferafts For Latchicos, due for release on 23 April. The new record –  like much of Lennon's work – is about growing up and working in a border county on the north east. 'Pushin the Patients Round' is released with an accompanying music video showing Lennon in Dundalk pushing a woman in a shopping trolley, singing and playing. Pre-order the album on Bandcamp: https://jinxlennon1.bandcamp.com/album/liferafts-for-latchicos
Roger Doyle – Lights All Askew In The Heavens
Released in February, Lights All Askew In The Heavens is the new album from Irish electronic composer Roger Doyle. The counter-intuitively dark, industrial-sounding nine-track album includes pieces such as 'Landscape Hangs A Scroll, Vivid As Cinema' and 'This Timecoloured Place', and follows his electronic opera iGirl last September (with a text by Marina Carr), The Electrification of Light from 2019, and before that his first electronic opera Heresy. The album title for the new release, Doyle says, 'comes from a newspaper headline in the New York Times from November 1919 when experiments were done to test Einstein's theory that light could be bent by gravity. Einstein was proved right.' Other tracks are inspired by the Aurora Borealis, 'an experience I had of seeing them in Alberta, Canada, and finding it hard to believe the scientific explanation for the magic I saw.' To purchase the album, visit https://rogerdoyle1.bandcamp.com/album/lights-all-askew-in-the-heavens 
Click on the image below to listen. 
Oh Yeah Music Centre – Scratch My Progress, Vol. 9
Oh Yeah Music Centre in Belfast have recently released Scratch my Progress, Vol. 9, an EP of songs written and recorded as part of their mentoring programme of the same name. The music development programme is now in its ninth year and sees a selection of early-career artists work with the organisation through the writing, recording and release process. This volume features five tracks by alternative indie artist Lemonade Shoelace, singer-songwriter Riley Holland, punk band Gender Chores, alt-rock band Vivamagnolia, and composer, DJ and electronic artist GILMORE. Purchase the record at https://linktr.ee/ScratchMyProgress
Sam Lee – The Nightingale
English folk singer Sam Lee has just published his first book, The Nightingale. The book studies the nightingale bird and charts the millennia of the human species' interaction with them. In tandem with the release of his new book, Lee has also recorded a new EP, Singing With the Nightingales, and will release a new track from it every two weeks, including the first track 'The Tan Yard Side'. With his Nest Collective folk music promotion company, Lee also coordinates the annual Singing With Nightingales event, where, over the course of a few weeks, he is joined by musical guests and performs against the backdrop of nightingales singing in the woods. Last year's event moved online and was live-streamed on YouTube. This year's event will also be online and starts on 14 April. Find out more: https://thenestcollective.co.uk/includes/singing-with-nightingales/. Purchase The Nightingale here: https://linktr.ee/SamLeeNightingale
Alannah Thornburgh – The Front
'The Front' is the new release from harper Alannah Thornburgh of folk group Alfi. The ambient, minimal piece is a homage to the late piano composer Conor Walsh who wrote the work. To mark the fifth anniversary of his passing, Thornburgh collaborated with producer Cian Hamilton to record the work in Swynnerton Lodge, Navan. Thornburgh, like Walsh, is also from Swinford in County Mayo. She writes: 'As a young musician, I was always a huge admirer of Conor's work. Growing up in Co. Mayo, Conor and I shared similar musical styles, both heavily informed by the rural landscapes and rich heritage the west of Ireland has to offer. He was a profound influence on my musical development and his words of advice and encouragement still resonate with me today. Learning "The Front" was a difficult yet deeply fulfilling challenge for me, Conor made it sound so easy, which epitomises just how great of a composer he was. I hope that I have managed to do it justice.' Purchase the track on Bandcamp: https://alannahthornburgh.bandcamp.com/track/the-front
Crash Ensemble – Lipids
Lipids, the latest release on Crash Ensemble's own label, is a portrait EP of works by composer and electric guitarist Barry O'Halpin. The three works – Lipids, Lethargarian and Stridula – date from 2014 to 2019 and chart the evolution of O'Halpin's writing for both chamber ensemble and solo electric guitar, as composer-in-residence and guitarist with the group. The title track Lipids interweaves murky timbres of cello, bass clarinet and electric guitar; Lethegarian for nine musicians plays with Crash's affinity for rhythm; and Stridula uses experimental techniques and microtonal tuning to reimagine the solo electric guitar as a percussion instrument. This is the third release on Crash Records, following Crashlands (2019) and Kevin Volans: Trumpet, Vibe, Cello, Piano (2012). Purchase the album on Bandcamp: https://crashensemble.bandcamp.com/
Click on the image below to listen.
–
To submit your music for inclusion, visit: https://bit.ly/38vquCn
Published on 2 April 2021