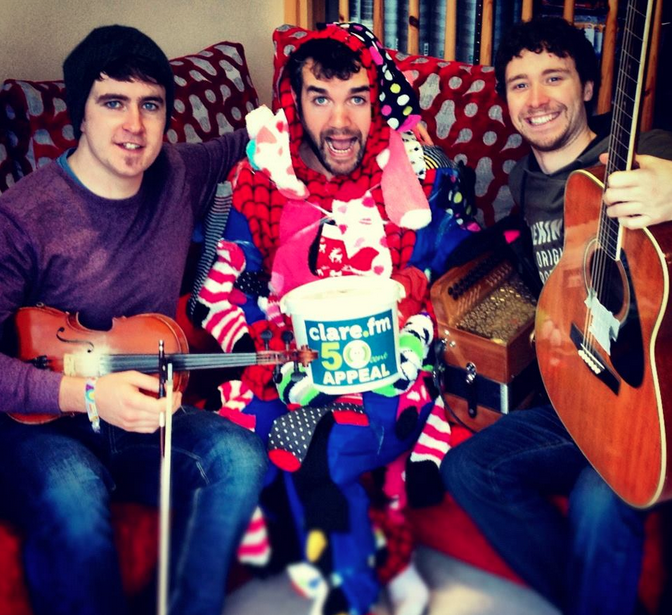 New Album from Clare Trio Socks in the Frying Pan
Featuring seven tune tracks and five songs.
Brothers Shane (accordion) and Fiachra Hayes (fiddle) and friend Aodán Coyne (guitar) have been gigging around Galway, Limerick and their native Clare for the past few years, and now have released their first, eponymous, album as Socks in the Frying Pan; though Fiachra Hayes and Coyne featured prominently on Shane Hayes's 2010 recording Small Towns in Built-up Areas.

This one has a pronounced light-hearted tone in the sleeve notes, graphics and some of the photography; while the cover image, which is very reminiscent of a Fidil shoot from some years back (instrument case and all), is off in another direction altogether: America, perhaps?

Consisting of seven tune tracks (including two tunes by Shane Hayes) and five songs, the album features a lot of high-energy playing, fancy ornamentation and frolicsome arrangement. As against the risk taking in the tune playing, the tune choices (such as 'Music for a Found Harmonium', 'Gillian's Waltz', 'The Silver Spear') and especially the song choices (Steve Tilson's 'The Slip Jigs and Reels', 'Shady Grove', 'The Bonny Light Horseman', Shane MacGowan's 'Lullaby of London', and 'Foreign Lander') seem quite safe, and the latter are delivered more conservatively than you might expect from such youth.

Guest musicians, Brian and Keith O'Loughlin, Andrew Kenny, Ger Coughlan, Michael Donnellan and Jack Talty feature on the fun-filled closing track, 'The Track for the Craic', a version of 'Music for a Found Harmonium' bounced frenetically in different combinations around the ensemble. Great craic.

Recorded at Miltown Malbay Studios, under the listening ear of Martin O'Malley, the album's sleeve notes acknowledge the influence on tune and song choices of, among others: Stephen Madden (RIP), Tim O'Brien, John Doyle, Niamh Parsons, Kris Drever, Helen Flaherty, Máirtín O'Connor, Damien Mullane, Cyril O'Donoghue, and Kevin and Tracy Crawford.

custysmusic.com.

Published on 16 November 2012