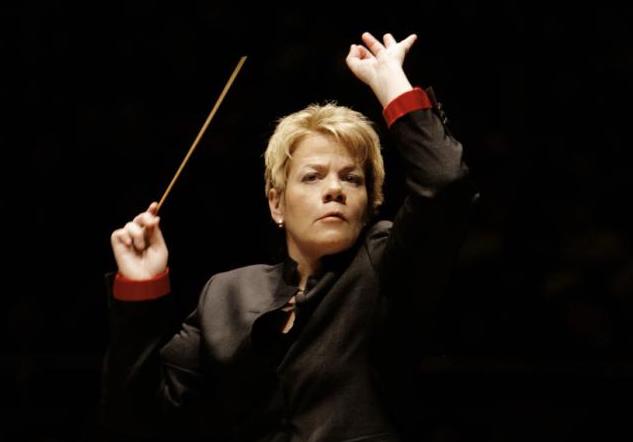 Marin Alsop to Host Workshop in NCH Female Conductor Programme
Online Q&A zoom session for participants will take place on 14 January.
It has been announced that renowned American conductor Marin Alsop will give an online workshop as part of the National Concert Hall and Grant Thornton Female Conductor Programme.
Alsop, based in Vienna, will participate in an extensive Q&A zoom session with Irish participants of the programme on 14 January, covering topics such as leadership, conducting technique, interpretation, practice and the power of music to effect social change.  
 
Now in its second year, the Female Conductor Programme was devised to address inequality in conducting and is designed to coach, mentor, encourage and promote talented female conductors who are at the outset of their careers. The programme is led by British conductor and Artistic Director Alice Farnham together with Irish conductor David Brophy, and features contributions from artists such as LA-based Irish conductor Eimear Noone. 
The twelve participants are Áine Gell, Amy Ryan, Margaret Bridge, Celine Leong, Dara Pender, Emily Cox, Muireann Ní Dhubhghaill, Siobhan O'Donnell, Siofra Ní Dhubhghaill, Mary Walsh, Meadhbh Campbell and Tamasine Plowman.
Alsop is currently Music Director of the Baltimore Symphony Orchestra and Chief Conductor of the Vienna Radio Symphony Orchestra, the first woman to hold either position. The first and only conductor to receive a MacArthur Fellowship, Alsop has also been honoured with the World Economic Forum's Crystal Award and made history as the first female conductor of the BBC's Last Night of the Proms. Last year she spearheaded the Global Ode to Joy, a crowd-sourced video project to celebrate Beethoven's 250th anniversary.
Commenting on Alsop's involvement, Paul Jacobs of Grant Thornton said:
[Marin Alsop's participation] proves the importance of this programme on an international scale. The pandemic has only made us at Grant Thornton more passionate and determined that this programme will be a great success for the participants, and Marin's involvement brings us a big step closer to that success. I hope the participants enjoy what will truly be an insightful and unique session.
For more, visit www.nch.ie.
Published on 12 January 2021