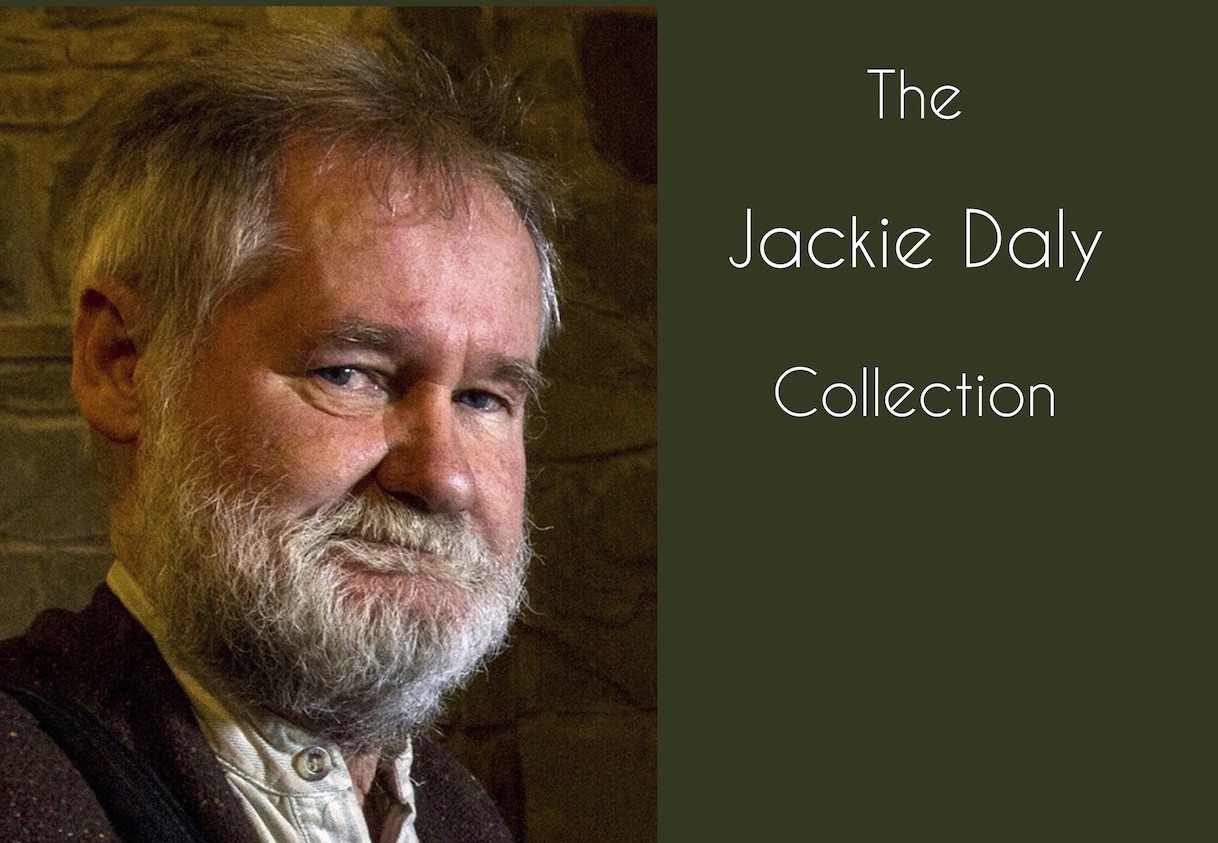 Jackie Daly Publishes Collection of Over Two Hundred Tunes
'The Jackie Daly Collection', edited by Matt Cranitch, contains well-known tunes such as 'The Fly Fishing Reel' and 'The Trip to Tuam' as well as many unrecorded compositions.
The traditional Irish accordion player Jackie Daly, renowned for his work as a soloist, duettist and as part of groups such as Dé Danann, Patrick Street and Arcady, has published a collection of his tune compositions. 
The Jackie Daly Collection, compiled, transcribed and edited by fiddle player Matt Cranitch, was launched at the Willie Clancy Summer School earlier this month.
The book contains over two hundred compositions divided into jigs, slides, polkas, reels, hornpipes, and miscellaneous (mainly planxties and waltzes). Among the tunes are the reel 'The Trip to Tuam', which appears at the end of Dé Danann's arrangement of 'Hey Jude', which they released in 1980. There are also tunes such as 'The Fly Fishing Reel', which he recorded in 1995,  'Jackie Daly's Reel', which was recorded by Arcady, and 'The Rakes of Merlot' and 'The Living Stream', which were recorded by Daly and Cranitch. There is also one song, 'The Roadside Stage', composed by Daly when he received the Kanturk Festival Award in 2009. Many of the tunes include notes on their origins from the composer.
A selection of his tunes have already been included by the Irish Traditional Music Archive in its 'Saothar – New Compositions for the Tradition' series. 
Sliabh Luachra influence
Daly was born in Kanturk, Co. Cork, in 1945, and grew up immersed in the musical traditions of the area known as Sliabh Luachra. In the introduction to the collection, he writes:
In my early teens, I used to play with the Seán Lynch Céilí Band, and one of the gigs was at a crossroads platform at Knocknacolan, about a mile outside Kanturk in north Cork. It was run by Bill O'Sullivan, a wonderful local man who used to show us how to dance as well. I got a lot of music from Jim O'Keeffe who played fiddle with us, and he had been a pupil of the great Pádraig O'Keeffe. So it was Sliabh Luachra all the way, and I learned to read that distinctive fiddle notation [a form of fiddle-music tablature that Pádraig O'Keeffe had used as a memory-aid for pupils].
In 1974, Daly won the accordion competition at the Fleadh Cheoil in Listowel and in 1977 released his influential debut album Music from Sliabh Luachra on the Topic label. He also began performing with fiddle player Séamus Creagh and they released a duet recording in 1977 also. In 1980 Daly joined Dé Danann and appeared on The Mist Covered Mountain, The Star-Spangled Molly and Anthem. He also released Eavesdropper with Kevin Burke in 1981, Domhnach Is Dálach/Many's a Wild Night with Máire O'Keeffe, Paul de Grae and Garry O'Briain in 1995, and The Living Stream with Matt Cranitch in 2010. He featured in the TG4 'Se Mo Laoch series in 2017.
Daly was presented with the TG4 Gradam Ceoil award in 2005 and he has also received the M.J. Quill Irish Cultural Centre Award in New York and the Patrick O'Keeffe Festival Lifetime Achievement Award. 
The Jackie Daly Collection: Original Irish tunes in the traditional style for all melody instruments is available to purchase from www.custysmusic.com.
Published on 26 July 2022