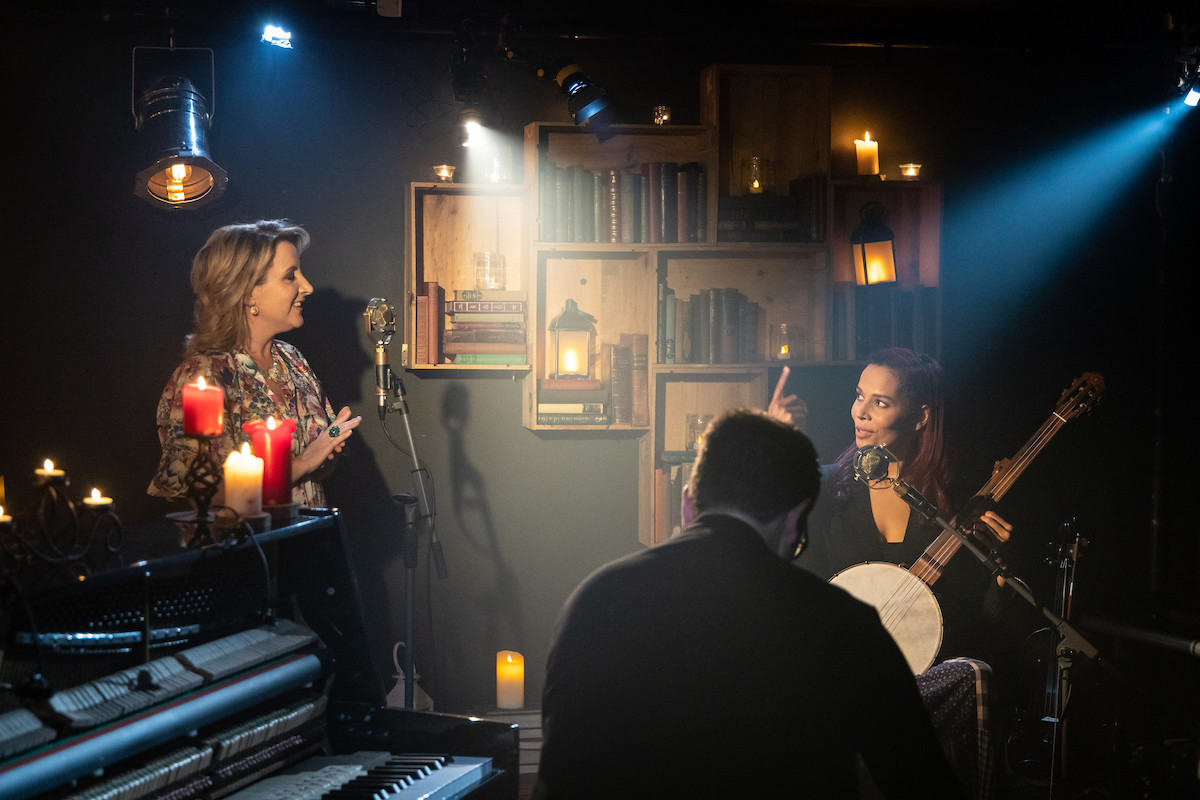 'It feels like an antidote to the pandemic blues': New Cumasc Music Series Starts This Week
'CUMASC: Seisiúin sa Black Gate' will feature Rhiannon Giddens and Francesco Turrisi, Colm Mac Con Iomaire, Inni-K, John Blek, Anna Mullarkey, and the Mary Wallopers; starts this Friday on the TG4 Player.
CUMASC: Seisiúin sa Black Gate is a new twelve-part music series featuring performances and interviews with traditional, folk, indie and electronic musicians. The series, which begins this Friday (11 February) on the TG4 Player, was filmed at the Black Gate venue in Galway, and in various locations across Galway city and county. 
The title comes from the Irish word cumasc, which means fusion or merger, and the basis of the show is collaboration. During the filming of the series, artists met and collaborated over the course of one day, performing together the results that are shown in each episode. The series opens with American folk musician Rhiannon Giddens, Italian pianist and composer Francesco Turrisi, and sean-nós singer Róisín Elsafty performing an inventive collaboration which draws from their musical backgrounds. 
The series also features new music and performances from electronic musician Daithí Ó Drónaí and vocalist, songwriter and violinist Suzanne Savage; American singer-songwriter Sam Amidon collaborating with fiddle-player Siobhán Peoples; Galway-based singer-songwriter John Conneely performing with songwriter and guitarist performer Síomha; and Liam Ó Maonlaí, Niwel Tsumbu, and Eamonn Cagney.
CUMASC: Seisiúin sa Black Gate will also present performances from Rachael Lavelle and Peter Broderick; Séamus Begley and Junior Brother; Seamie O'Dowd and Daoirí Farrell; Jinx Lennon and The Mary Wallopers; Anna Mullarkey and New Jackson; Colm Mac Con Iomaire and Arborist; and Inni-K and John Blek. 
Commenting on the new programme, series director Mia Mullarkey said: 
What will emerge by placing musicians in a room, often in their very first encounter with each other, and giving them one day to create music for a live recording the following morning? CUMASC means fusion or merger, and the idea behind our new TV show is innovative and soulful. It feels like an antidote to the pandemic blues, watching artists combine their traditions and imaginations to create beautiful musical works for this series.

For me it has been a real honour collaborating with such talented and diverse musicians, both Irish and international, during the shooting of CUMASC. It was exciting to work with musicians of the stature of Rhiannon Giddens, Colm Mac Con Iomaire, Peter Broderick, Niwel Tsumbu and so many others, and I can't wait to share our 12 episodes with the world.
CUMASC: Seisiúin sa Black Gate was commissioned for TG4 under the BAI's Live Music Sector funding scheme and will air on TG4 later in the year. Since closing in 2020 due to the pandemic, the Black Gate venue has established a record label, releasing Galway singer-songwriter Niamh Regan's debut RTÉ Choice Music Prize-nominated album Hemet. The team has also produced several online music series including the Black Gate Sessions in 2020, and the Booley Sessions in December 2021 and January 2022. 
For further information on CUMASC, visit: https://bit.ly/3rycNh1
Published on 8 February 2022