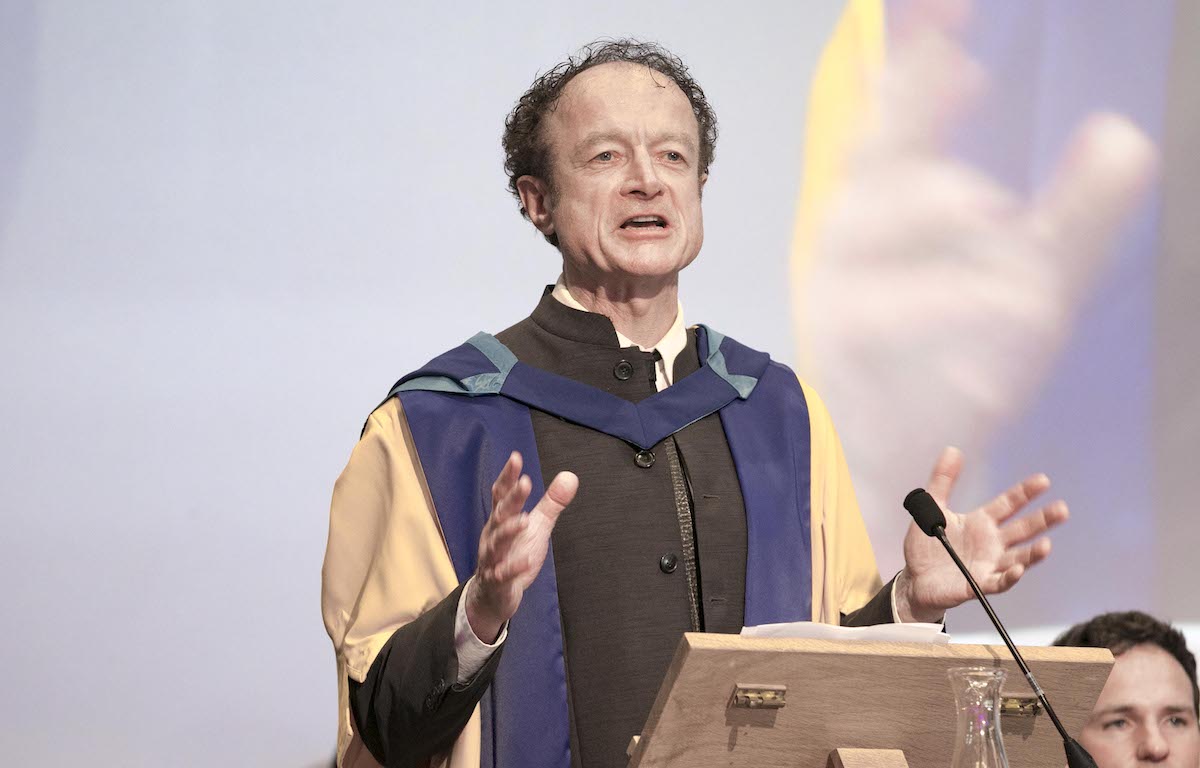 Hot Press Editor Niall Stokes Awarded Honorary Doctorate
Music journalist honoured as magazine celebrates 45 years.
Niall Stokes, the long-standing editor of Hot Press music magazine, has been awarded the honorary degree of Doctor of the University by the Open University in Ireland. The ceremony took place yesterday (8 June) at Croke Park.
Stokes received the honour for his contribution to Irish cultural and political life over four decades. Hot Press celebrates 45 years in 2022, and marked its thousandth issue in 2019, and Stokes has been at the helm of the publication since its inception.
Commenting on the honorary degree, Stokes said:
I am profoundly grateful for the unique recognition which this honour represents, of what we have achieved in Hot Press since the magazine was launched in 1977 – and of the contribution which all the people who worked for Hot Press over the years have made, individually and collectively, to Irish music, to Irish culture and to Irish society. It feels especially appropriate, coming from the Open University, a wonderfully idealistic organisation which was founded back in 1969 with the specific mission of democratising third-level education, and making it accessible to all, irrespective of gender, class, age, creed or race. Long may it continue to thrive, with its enlightened, egalitarian mission.
Born in Dublin, Stokes studied English and History at University College Dublin before pursuing a career as a musician and songwriter. After working as a freelance journalist with the Sunday Independent and other newspapers, he became editor of Scene magazine in 1976 and brought together writers such as Máirín Sheehy, Bill Graham and Julian Vignoles. With the arrival of punk rock, pirate radio, large open-air concerts and a DIY spirit, Stokes and Sheehy decided to leave Scene and launched Hot Press. The first issue appeared 45 years ago today on 9 June 1977. The inaugural cover featured Rory Gallagher.
Hot Press has been a major advocate of Irish music in the years since, and a launch pad for many artists. The magazine championed U2 from early on in the band's history, and also featured artists such as The Boomtown Rats, Sinéad O'Connor, Snow Patrol, The Script and more. Stokes has also become a curator of the legacy of Phil Lynott of Thin Lizzy, producing and directing an exhibition and writing books on the singer's life and work.
The magazine has also been a campaigning voice in Irish society across many political and social issues, promoting causes such as the availability of contraception, gay marriage, and the repeal of the eighth amendment on abortion.
Among the contributors to the magazine have been Jackie Hayden, Stuart Clark, Michael D. Higgins, Olaf Tyaransen, Oliver Sweeney, John Waters, Liam Fay, Arthur Mathews, Niall Stanage, Liam Mackey, Sarah McQuaid, Dermot Stokes, Roisin Dwyer, Declan Lynch, and Anne Sexton.
John D'Arcy, Director of the Open University in Ireland, said:
Niall's pioneering approach to journalism has provided a unique showcase for some of Ireland's most significant musicians, writers and commentators of the past few decades. Thanks to Niall's leadership, Hot Press magazine remains as relevant and vibrant as ever, attracting new generations of readers, and acting not just as a witness but a driver in the transformation of Ireland over recent decades. It is a pleasure for the Open University in Ireland to honour Niall's unique and essential role in Irish cultural and political life.
Visit www.open.ac.uk and www.hotpress.com.
Published on 9 June 2022