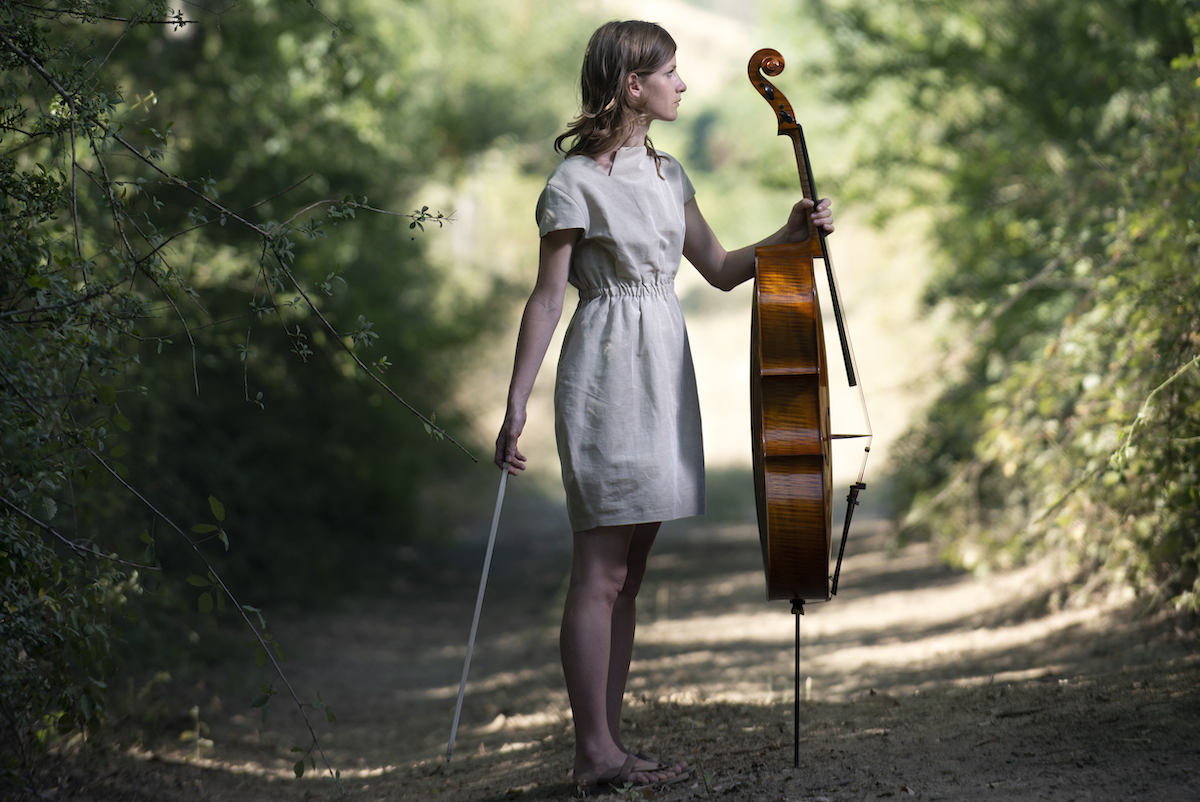 Cellissimo Festival to Open with Bill Whelan World Premiere
First year of new Music for Galway triennial cello festival will feature Mischa Maisky, Tatjana Vassiljeva, Adrian Brendel, Marc Coppey, Lucy Railton, Natalie Haas, Naomi Berrill, Hannah Roberts, Christopher Marwood, Jakob Koranyi, Adrian Mantu, William Butt, Christopher Ellis, and more.
Music for Galway's inaugural Cellissimo festival will open with a new work by Bill Whelan next Thursday 25 March.
The work, titled Fragments, was commissioned by the festival and will be performed by Naomi Berrill on a specially made instrument, 'The Galway Cello'. The instrument was also commissioned by Music for Galway and made by luthier Kuros Torkzadeh from local Galway timbers. The premiere will be the very first time the instrument will be performed in public.
Cellissimo and Fragments, presented in partnership with Galway 2020, were both meant to take place last year, but were postponed because of the pandemic. The new work was originally commissioned for solo cello but Whelan developed the idea. 'I was aware that Naomi had a capacity not alone to play the cello beautifully but also to sing,' he said, speaking to the Journal of Music, 'so I thought about it… It isn't often that you find somebody like that.' The 7-minute work is therefore for both cello and voice.
We worked together on the piece because I wanted her to feel ownership of the piece as well… It makes it very personal to her.
The work is called Fragments because it brings together a number of different strands. As well as an air by Whelan at the centre of the work, he has also set poetry by Galway poets such as Rita Ann Higgins and Máirtín Ó Direáin, and poets with a connection to Galway.
I chose pieces, little fragments, sometimes just a line or a couple of words from one of the poems and I worked it into the piece … In the centre of it I wrote an air for her, to play the cello simply as a solo instrument, and to have a melodic piece in the centre when all the fragments came together.
Fragments will form part of Cellissimo's opening concert which also features the Irish Chamber Orchestra and cellists Marc Coppey and Christopher Ellis performing Vivaldi's Concerto for Two Cellos, as well as works by Haydn, Tchaikovsky, Barber and Bartók.
Cello recitals
The new triennial festival, curated by Artistic Director Finghin Collins and Festival Director Anna Lardi, runs from 25 to 31 March and is entirely online this year. It features a number of recitals by renowned international cellists including Swedish cellist Jakob Koranyi performing Bach, Ligeti and Kaija Saariaho (26 March); Russian cellist Tatjana Vassiljeva performing Bach, Kodály and Saariaho (27 March); British cellist Adrian Brendel performing Imogen Holst, Jonathan Harvey and Bach (28 March); Hannah Roberts, Principal Cellist with Manchester Camerata, performing Bach and Sally Beamish (29 March); Coppey performing Bach, Duport, Dutilleux and Enno Poppe (30 March); and Christopher Ellis performing Bach and Cassadó (31 March)
On 26 March, cellist Lucy Railton, renowned for her work in contemporary music and as a co-founder of the London Contemporary Music Festival, will perform a series of improvisations on solo cello; on 27 March, Collins will give a marathon concert performing all five of Beethoven's sonatas for cello and piano with five different cellists: Ellis, Coppey, Christopher Marwood, William Butt and Adrian Mantu; and on 28 March, the ConTempo Quartet and Marwood will perform Schubert's Cello Quintet.
On 30 March, American cellist Natalie Haas will host a discussion on the cello in traditional music with contributions from Rushad Eggleston, Neil Martin, Liz Davis Maxfield, Ilse DeZiah, Kevin Murphy, Alec Brown, Leah Rankin, Lioba Petrie, Kate Ellis and Mary Barnecutt. This will be followed by a concert by Haas in which she is joined by concertina player and dancer Caitlín Nic Gabhann and fiddle-player Ciarán Ó Maonaigh.
Pupil of Rostropovich and Piatigorsky
The final concert on 31 March will feature legendary cellist Mischa Maisky, who was a pupil of the great cellists Rostropovich and Piatigorsky. Maisky will perform, with his daughter, pianist Lily Maisky, a programme including Beethoven, Britten, Tchaikovsky, Rachmaninov and Piazzolla. He will also participate in a talk on Rostropovich that day given by Ludmila Snigireva.
There will also be a number of free cello masterclasses during the festival, with Mantu, Coppey, Berill, Brendel, Koranyi, Roberts, Haas and Maisky, and an online exhibition curated by Rob D'Eath that highlights the Galway Cello. On 29 March, there will be a student showcase concert featuring eight students of the masterclasses. Participants include Zoe Nagle, Peadar O'Loinsigh, Robert Murphy, Adrian Ivicevic, Isaac Bovyer, Michael Murphy, Catherine Cotter and Callum Owens. Richard Wigmore will also give a talk during the festival on Bach's Cello Suites, and there will be a screening of Murray Grigor's 2018 film Cellist – The Legacy of Gregor Piatigorsky.
Tying the themes of the festival together, on 29 March at 8.30pm there will be an event titled 'Cellists in Conversation' where the featured artists from Cellissimo will come together for an online discussion in which they will 'raise a glass and have a chat about this wonderful world we live in'. Moderated by Lardi and Collins, 'it promises to be an insightful, sparkling, occasionally noisy and always entertaining session.'
Commenting on the programme, Collins said:
I am so pleased that Cellissimo is finally happening in March. Due to Covid-19 restrictions it's somewhat different from the original live event that we had planned. However, I hope patrons embrace our re-imagined festival and enjoy the cello and its repertoire from many different perspectives. I want to thank our wonderful artists who agreed so enthusiastically to participate in Cellissimo in its new online format. I look forward to making it a memorable festival for all.
Concerts are €10, or €50 for all six cello recitals. Tickets for the opening concert and the Mischa Maisky concert are €20, the Beethoven Sonatas are €15, and the ConTempo Quartet/Marwood concert is €12. Music for Galway has also joined forces with local producers to offer cheese, lager and ale tastings, craft classes and talks connected to specific concerts in the programme. Finally, this weekend, there is an event for children in which cellist Greg Sinclair will give live and interactive performances over Zoom.
For further details and booking, visit https://musicforgalway.ie/cellissimo-events/
Published on 16 March 2021