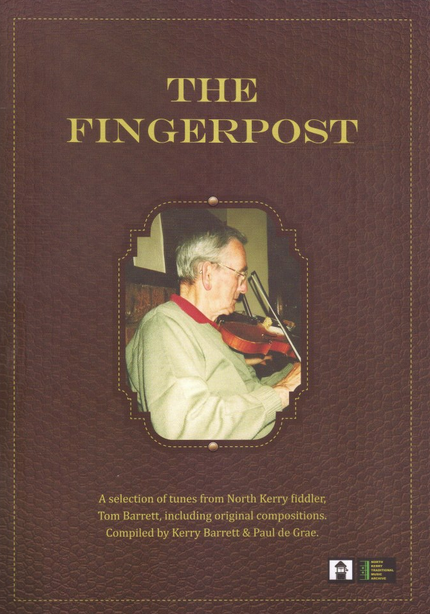 Celebrating the Music of North Kerry Fiddler Tom Barrett
Tom Barrett (1923-2002) was a fiddler, bagpiper and composer from Bedford, near Listowel, in County Kerry. His enthusiasm for Irish traditional music, and especially the music of his native area, was manifested not only in his playing but also in his teaching and in his manuscript collection. A tireless promoter of the music, he contributed many tunes to Breandán Breathnach's Ceol Rince na hÉireann volumes, from his own repertoire and from manuscripts he had collected. As a serving soldier in the Irish Army, Barrett's career brought him to Ennis and to Clonmel, and he had pupils in both areas. He also formed the 13th Battalion Pipe Band, which he led at many public events. The pipe band repertoire fitted with his interest in Scottish music.
Towards the end of his life, family and friends finally persuaded him to make a recording, which he did along with his son Kerry (also a fiddler), with guitar and piano accompaniment by Paul de Grae. The privately-issued CD, named Lios A' Cheoil, after the house in Clonmel, was released in the summer of 2002, a few months before his death.
For the past three years, the North Kerry Traditional Music Archive has held an annual festival, Drawing from the Well, focusing on a significant North Kerry traditional musician and this year, back in October, it was Tom Barrett's turn. For from this tribute, Kerry Barrett and Paul de Grae collaborated on a book of tunes selected from Tom's repertoire, and launched at the festival. The Fingerpost contains 25 tunes transcribed from Tom's mss. and from the Lios A' Cheoil CD, reflecting the North Kerry repertoire learned by Tom in his youth and also including eight of his own compositions. There are also comments on the tunes and a biographical note on Tom.
De Grae explains: 'The recording was done in the knowledge that Tom didn't have much longer to live; he was in remission from the cancer that eventually killed him. I became involved because I'd met Tom often at sessions in Kerry going back to the 1980s, and Kerry Barrett is one of my regular session mates in Tralee. Tom was a joy to work with, always cheerful, always with interesting things to say about the music, about life in general. The only hard part of the recording process was because of Tom's deafness: he usually wore two hearing aids, but these had to be turned off to avoid feedback in the mics, so Tom was relying on visual cues from his son to supplement whatever faint sounds he was hearing of his own playing. As you can imagine, this created some difficulties and Tom's health didn't allow for multiple retakes. His solo air, accompanied by me on piano with my back to him, for instance, required telepathy on both our parts. Overall I was happy with the finished recording. More to the point, Tom was happy with it, and lived long enough to enjoy the launch concert in Clonmel and the response afterwards from the likes of Bobby Gardiner, Kieran Hanrahan, and others.'
The book is available from the North Kerry Traditional Music Archive c/o Paul de Grae, pauldegrae [at] eircom.net or Frogmore House, The Spa, Tralee, County Kerry, Ireland. The price is €10 plus p&p (€2 within Ireland, €4 overseas). While stocks last, the book and CD can be purchased together for €15 plus p&p.
Published on 20 December 2012