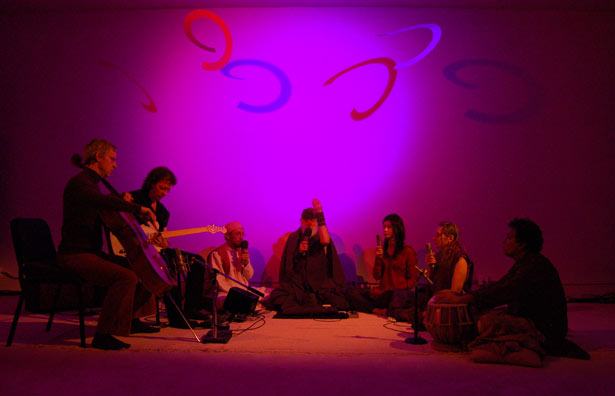 Unswerving Endeavour
Garrett Sholdice attends a La Monte Young performance at Berlin's MaerzMusik, and reflects on past experiences with Young's magical sustained tones.
La Monte Young, Marian Zazeela, and The Just Alap Raga Ensemble performing on 27 June, 2008 at the Dream House in New York. Photo: Jung Hee Choi.
La Monte Young is often referred to as the 'father of minimalism', or words to that effect. There is certainly no denying that his sustained tone sound worlds and extremely long compositions have had a profound effect on musicians working in a number of areas of music since the 1960s.
Performance has always been an integral part of Young's practice as a composer, but in the last years public performances have become rare. The publicity for his recent performance at Berlin's MaerzMusik festival warned that this might be the last chance to witness a live performance in Europe. I was there, and the experience prompted me to reflect on what his music has meant to me, one of the many musicians he has influenced.
You can almost hear the hum of the drones from the Church St entrance to the Dream House, Young and his wife Marian Zazeela's 'sound and light environment' in Tribeca, New York City. I remember ascending the stairs to the third floor, the intensity of the sound increasing with each step. This was seven years ago, and I remember the excitement vividly: the scent of incense, the soft carpet, the early evening hue of Zazeela's magenta light installation, and the sound  that wrapped itself around me. It was constant, burning very hot and very slow. With every tiny movement of my head a new vista of harmony seemed to appear — new, but somehow also as if it had been there all along.
I lay on the floor of the Dream House for at least an hour. That first experience seemed to access something deep within me, an experience of actually getting lost, of uncoupling from the noise of the mind.
Young's work since the late fifties has almost exclusively dealt with what he calls 'sustenance'; tones that are continuously sounded for some time. The intervallic relationships between these tones are extremely important to him. He lines up the vibrations per second such that any two tones will be in some whole number ratio, such as 7:4 or 3:2. As Young puts it, this way of doing things is based on the 'natural principles of overtones and resonances as our ears hear them and our voices produce them, that is, as they are found in nature'.
The piano is not usually tuned in this way, but Young re-tuned the strings on a Bösendorfer grand piano in order to develop his solo performance vehicle The Well-Tuned Piano, a continuously evolving work begun in 1964. In 1987 Young gave a performance that lasted over six hours. It was filmed and released on DVD. I once watched it with friends in one sitting. The music doesn't totally immerse like the Dream House installation; it draws you in, and draws you in again — each build up and relaxation a seduction. And with each seduction, the static harmony permeates the nervous system a little more. It felt like the music was in my limbs.
Young's music seemed like magic to me. I studied it, listened and read. And much of the music I have written since that first encounter has been infused a little with his style or his sound.
Recent experiences of Young's work have given me yet new perspectives. A return to the Dream House in New York last autumn felt like returning to some place from childhood to find it much smaller than you remember, almost unfamiliar, but still somehow charged with feeling. 
At MaerzMusik, Young — now in his 77th year — sang for nearly two hours over continuous tambura drones with his longtime partner and collaborator, Marian Zazeela. They performed, alongside vocalist Jung Hee Choi and Naren Budhkar on tabla, Young's vision of the North Indian classical raga 'Darbari'. The performance was heavy with a feeling of personal ritual, of a re-affirmation of some core truths. Young has said that the alap, the first, unmeasured section in a performance of a raga, was possibly the most 'significant inspiration' for his work with sustained tones. This influence was palpable in Berlin, where a humanity — a frailty, even — that I had never heard before in Young's music emerged. This was no longer the performance of a magician, and yet there was a great sense in the music of a life's work, of the unswerving endeavour of a human being, being made manifest.
Published on 8 May 2012
Garrett Sholdice is a composer and a director of the record label and music production company Ergodos.