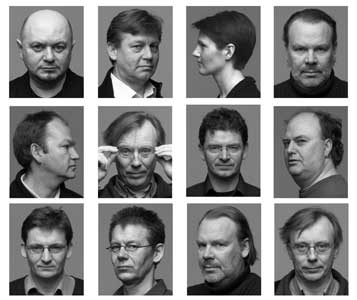 ISCM World New Music Days
ISCM World New Music Days, Visby, Växjö and Gothenburg, Sweden, 24 September – 4 October 2009
On eleven days and in three Swedish cities, the ISCM World New Music Days featured forty-seven concerts plus numerous sound-art installations. This was a marathon festival requiring heavy logistics to attend, never mind organise. I can imagine that few people, if any, could attend every day of the festival, and I caught only eight days. That was enough to notice some organising principles and general points. Beginning on the central Baltic island of Gotland and ending in the large city of Gothenburg, there was an intentional drift over the festival's course: from embracing the amateur performer and reaching out to the general audience, towards a more specialised, cutting-edge 'new music' atmosphere in the third, metropolitan, location.
Visby, on the island Gotland, is a very small, historic city which has a claim in the arts and new music out of proportion to its size or location. It has separate composers' and writers' centres (residential retreats for creative work which attract writers and composer from all over Europe) and a university where composition is taught. Locally, the performance scene is dominated by organists and choirs, as there are ninety-four churches on Gotland. In this leg of the festival that was reflected in the venues and concerts. The most memorable Visby concert was given by the Stockholm Saxophone Quartet in a ruined church, St Nicolai's, where there is just a segment of well-placed roof, and a good acoustic. The pieces that appeared in the programme were very contemporary and representative of this quartet's repertoire, spanning composers from Mexico, Greece, Japan, Sweden, Turkey and the USA. The quartet pieces were interspersed with glee-type numbers from a local male choir, which was surprisingly effective and drew in a large local audience. The highlight among the saxophone quartet's pieces was Rädda mig ur dyn ('Rescue me from sinking in the mire') from Karin Rehnqvist, where two saxophones were joined by soprano Marie Axelsson – a voice of unusual force, range and purity.
The Växjö highlights included concerts from the Cikada Ensemble and the Danish Radio Vokalensemblet, both widely known in Europe for top-level contemporary performance. In the first of those, the outstanding pieces were from Fabio Nieder (Italian-German) and Iván Madarász (Hungarian). The DR Vokalensemblet sang in the striking twin-spired cathedral in the centre of Växjö, where an usually good acoustic brings out intense colours in the upper partials. This concert featured two interspersals of sets of epigrammatic solo piano pieces from Slovakian Daniel Matej and Israeli Amos Elkana, creating satisfying symmetry as well as unexpected variety in the programme. The outstanding choir pieces were from Ireland's Gráinne Mulvey (her Stabat Mater) and Pepe Becker (New Zealand). Everything in that concert was very strong, especially pieces from Justė Janulytė (Lithuania) and Dariusz Przybylski (Poland). The consistency of quality was also no doubt thanks to the exceptional level of the singers, who are all full-time professionals.
Two among the Gothenburg concerts that stood out were from a group called Gageego! and the Ensemble Orchestral Contemporain. Yannis Kyriakides had a memorable piece for ensemble and video, mnemonist S. in the first of these, while Zeynep Gedizlioglu's Akdenizli (the Mediterranean) presented a forceful personality in the second.
This report is just a tiny sample from a huge festival that spanned electro-acoustic music, multimedia work, opera, symphonic concerts and sound art; the names mentioned here must justify this year's slogan: Listen to the World.
Published on 1 December 2009
John McLachlan is a composer and member of Aosdána. www.johnmclachlan.org