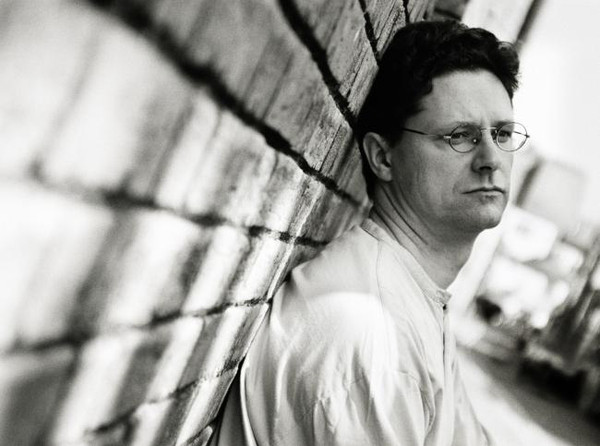 Composers' Choice: Fergus Johnston
A preview of Fergus Johnston's Composers' Choice on March 28th, 2002, in the John Field Room, National Concert Hall, Dublin 2.
The third of the National Concert Hall's 'Composer's Choice' series' gets under way in March from the 24th to the 28th, and this year one of the concerts (on the 28th) is programmed by me. The brief for the series is to programme music which has inspired one, or which has had a formative effect on one's creativity, and which has perhaps had an influence on one's own composition. A laudable goal, but when it comes down to it, one that is difficult to realise. Each of us as a composer has had an exposure to other composers' music which has affected the way in which we think, and this is expressed in the music which we write even when this music is a negation of the original which provoked the utterance.
There are the banal influences as well as the sublime. One of my own formative musical experiences was performing The Monkeys' 'I'm a Believer' on the ukelele for junior and senior infants when I was in 2nd class in primary school. It was formative in that it kept me away from the ukelele thereafter. I found that I could pick out a tune happily enough because the ukelele has a nice attack (I was unaware at the time that I was a pioneer in lead-ukelele playing), but when I tried to play chords like teacher showed me on her resonant guitar after my performance and in front of the entire crowd, the chords when I tried them sounded like someone dropping razor blades into the sink (I knew this because I had dropped my father's razor blades into the sink).
So should my programme contain nursery rhymes, and street ballads? Should I include 1960s pop, Renaissance dance music, middle and late Baroque music (especially French), classical symphonies and string quartets? Should I throw in a little German romantic opera (if there is such a thing as a little German romantic opera!), some pre-WW1 expressionism and French impressionism, some pre-WW2 serialism (but without it's father, Schönberg, who wrote mud), some Indian classical music, some Japanese shakuhachi pieces, lots of 1970s prog. rock and jazzrock fusion (Yes! Yes!?), some Ligeti, some Boulez, some Nancarrow…? You will notice that I started with '-isms' and now I'm starting to name names, so it's getting really personal!
Very little of that would fit in the John Field Room, even if it would fit into a two hour concert programme, and if it did it would be a horrible mixture, so a compromise seems to be in order. At the core of my programme is the fact that there is very little in the nineteenth century that I like. It's not that I don't listen to the stuff. Maybe it's because I used to play the clarinet (long after I gave up the ukelele, and I think it put me off also!). It can't be an 'aesthetic' rejection, however, as I love Wagner's operas, and the Beethoven late quartets are unsurpassable. If you push me I'll grudgingly admit that Schubert's late piano music is remarkable, as are Tchaikovsky's last three symphonies, and I know it rambles, but Liszt's late chamber music is really interesting!
All this is by way of being a partial explanation for my programme being 'a game of two halves' each of which is equidistant in time (± 88 years or so) from 1827 when Beethoven died. Each half uses different ensembles, and each half ends with a piece by myself. Both halves have a strong French theme.
The first half consists of music of intimacy and delicacy by Couperin (Le Grand) and Rameau. These pieces will be played by Eleanor Dawson, David Adams, and Nick Milne on baroque flute, harpsichord, and viola da gamba. Wanting to choose them all, after much difficulty I've chosen only the first of Couperin's Concerts Royeaux, suites of dance movements which were composed for the Sunday concerts at the court of Louis XIV during 1714-5. (If only our Government had concerts of contemporary music every week! O tempore O mores!)
Then I've picked the third set of Rameau's Pièces de Clavecin en Concerts which were composed thirty years later, and show the genesis of a more sophisticated style in the extended development of their ideas, and the increased technical demands made on the players. Under expressive fingers, the central movement of the third suite, 'La Timide', is breathtaking, so I picked this suite.
Also in the first half is the Hungarian composer György Ligeti, whose music made a great impression on me in the mid 1980s (when I was struggling to overcome what was then described by a fellow composer as 'Webern-retention'!). Continuum for harpsichord shows Ligeti's fascination with mechanisms and processes.
Finally, my own Morrigan was writtten originally for baroque flute, harpsichord and live electronics, and here appears with prepared CD in revised form because the original version has never ever happened without something being amiss with the live electronic element.
The second-half of the programme is music for violin and piano played by Yosif Radionov and Zornitsa Damianova from Bulgaria who are stopping off here on their way to perform in the United States. They continue the concert's French sub-theme with Ravel's Violin Sonata. Its good humour and wit, its lack of posturing and its little sidelong glances at other genres are all qualities in it which I admire.
And keeping a tenuous French connection, Lutoslawski as a composer shows an almost French concern for texture and sonority, and I've been a devotee of his music ever since I heard the power and pathos in the Cello Concerto in 1978. His delicate textures, his lyricism, the (dare I say it) directionality of his phrases and the way they agglomerate into big soundmasses which overwhelm the listener while yet remaining translucent make him an unmistakeable figure, so his Partita for violin and piano from 1984 goes on my list also. There is a version from 1988 for violin, piano and orchestra, but we hear the piece in its original form. It stands out in the repertoire of music for this combination from the late twentieth century. Significant for me also is the episodic nature of the structure.
As I am still bearing the scars of my brush with Webern's music, I have to include his little Opus 7 pieces for violin and piano. Not especially French, more Japanese haiku-like, these created for me the realisation that (how shall I put it?) size doesn't matter, that you could write short pieces of music and get away with it (something a few more composers should try doing, now that I come to think of it! I'm reminded of Stravinsky's comment that while he hadn't yet heard Stockhausen's 'Momente', the title augured well!).
Finally there's a new contribution to the genre of violin, piano, and CD by myself, commissioned by the National Concert Hall for the occasion. I've no title yet; it shows the same concerns for invention from intervallic cells that are evident in Morrigan, and that title comes from the shape-shiftiness of the material involved.
The CD below is a sample of my work over the years: the biggest, and the most recent, is the first piece, Ard Fhearta, which is a monument to the ruin of Ardfert Cathedral, and hence its naked guise: the building is literally mapped in sound, the outer sections following the external structure, with the central section representing the interior. The piece was commissioned by Dúchas, The Heritage Service of the Department of Arts, Heritage, Gaeltacht, and the Islands. Other pieces on the CD are Carn for 2 pianos (also a soundscape), Signals for solo violin, and Samsara for orchestra. I hope you will enjoy them.
Published on 1 March 2002
Fergus Johnston is a Dublin-based composer. His CD Ard Fhearta has just been released and is available in Tower Records, the National Concert Hall shop, and the Contemporary Music Centre.