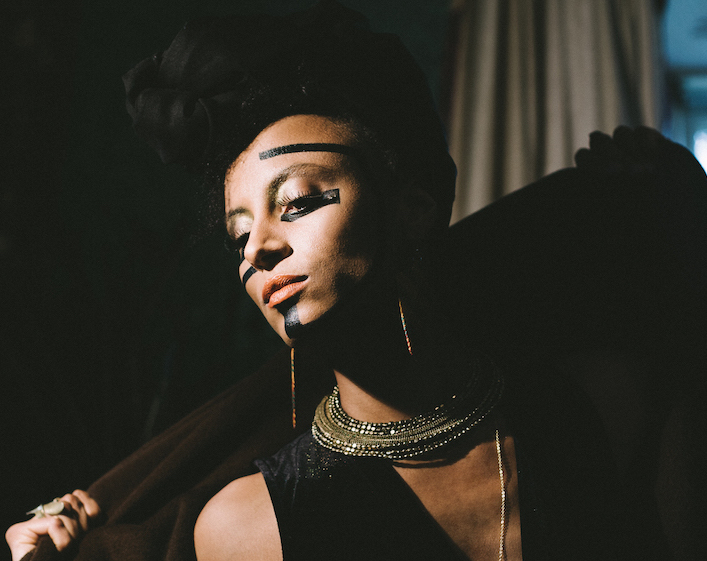 Straight to this Heart
In the latest review from our Journal of Music/Galway City Council Music Writer Mentoring Scheme, Julie Seagrave hears the songs and stories of Loah at the Galway International Arts Festival.
Loah appears on stage as a vision, her hair wrapped in a scarf of yellow, blue and red, and wearing an ethereal, Stevie Nicks-esque dress. This is her first ever Galway show on the back of her EP This Heart, which was released last June. 
Saying nothing, the set begins with the title track; a solo vocal line and keyboard create dissonances before the full band joins in, and musical space seeps in to increase the intensity. 
Before we hear a note of 'Infant Eyes', Loah's vocalise of the Wayne Shorter composition, she gives us a lesson on the practice of free jazz singing. Loah's musical education is evident throughout this piece – she studied violin and piano from an early age, picked up the guitar in her teens and threw herself into singing when she started college. Her vocal control and range are bewildering.
Stories
The introductions enrich the experience and subsequent pieces receive a similar treatment, including 'Cortège', a poem Loah wrote that an aunt translated into the Sherbro language. Loah speaks of the magic of this ancestral tongue with its beautiful phrases. The language is native to an island off Sierra Leone where her father is from. Following a delicate vocal intro, keys and guitar meander around the fluctuating rhythmic patterns of the drums to create a steadily pulsating piece with short, punchy refrains. 
Loah's stories of forgotten hometowns, deceased relatives and bad gigs are nicely balanced with the impressive musicianship of the band around her – Scott Kohlmann on guitar, Sammi Laleye on bass, Johnny Taylor on keys and Andre Antunes on drums. Their chemistry is compelling as they deliver improvised passages and interludes.
The point of life and art
'Nothing' is introduced by Loah with possibly her longest explanation, as we gain an insight into an existential crisis that she experienced walking home from gospel choir practice one day. She challenges us to question the point of life and art, making her own conclusion that art gives life purpose because we need to give meaning to the world around us. Subdued to begin, 'Nothing' is full of intricate syncopated guitar work and military style drumming which inadvertently gets everyone dancing. 
On stage, Loah and her band are captivating. Her musings between songs brings them to life, and pieces that felt lacking on record were brought to another level. Exploring many musical styles, over peaks and troughs, we travel through Loah's terrain of musical imagination. 
Loah will return to the Róisín Dubh Galway on 17 December as part of the This Heart tour. For more, see https://www.loahmusic.com.

This review is published as part of a new scheme for music writers in Galway City. The Journal of Music/Galway City Council Music Writer Mentoring Scheme is supported by Galway City Council Arts Service and was launched in March 2017. Over 12 months, the editorial team of The Journal of Music will work with five new writers – Vincent Hughes, Shannon McNamee, Jake Morgan, Dylan Murphy and Julie Seagrave  – to expand the magazine's coverage of musical life in the city. The first reviews from the Galway scheme include Vincent Hughes on Overhead, the Albatross, Jake Morgan on the RTÉ Concert Orchestra, Dylan Murphy on Brian Wilson, and Shannon McNamee on Lankum.
This is one of two schemes currently underway. A second – supported by Clare County Council  – supports four new writers to cover musical life in County Clare. The first two music reviews from the Clare scheme are Ian Bascombe writing about the Riches of Clare concert series, Deirdre Clare reviewing Paul Brady. Ruth Smith reviewing Lisa Hannigan, and Alan Reid reviewing the Boruma Trio. 
For further details on the background to the schemes, please visit https://goo.gl/QY83ga.
Published on 6 December 2017
Julie Seagrave has been actively involved in music all her life, from playing piano and guitar through her formative years and at university. In 2012 she graduated with a BA from UCD, and in 2014 obtained a BMus from the same college with an undergraduate thesis on feminist representations in popular music. Julie continued her academic career with an MA in Music and Cultural History in UCC. She completed her master's thesis on the music of the Native Tongues, an early 90s hip-hop collective from New York.