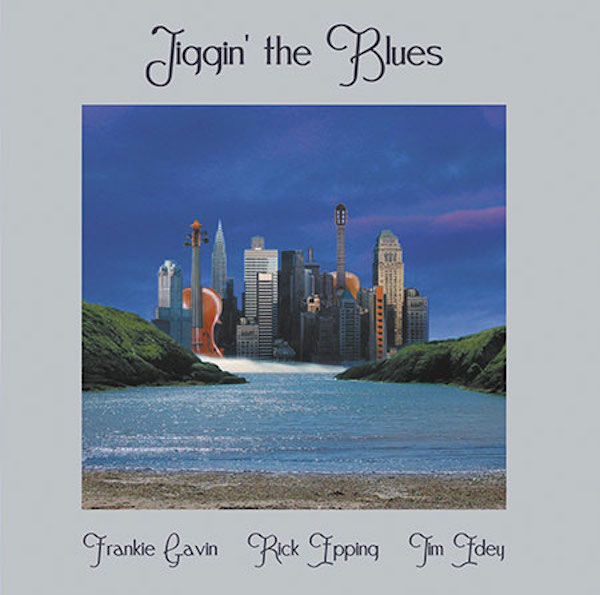 CD Review: Frankie Gavin, Rick Epping and Tim Edey
Jiggin' the Blues / Greentrax / G2CD7011
Jiggin' the Blues
Greentrax G2CD7011
What do you get when you cross Frankie Gavin's traditional steerage, Rick Epping's powerhouse harmonica and Tim Edey's driving guitar playing? Answer: one very solid sound journey. The journeys in this album lead from roots in Galway, California and Kent as these three musicians combine a shared link in traditional Irish music with their own individual backgrounds. Three musicians matched in each other's flamboyancy, combining to create a great powerful expressive sound; this is music that moves.
The title and artwork of the album implies the meeting of traditional Irish and American music. In reality, the crossover of genres and personal histories is so complicated that you could only regard this as a general suggestion towards an album theme. What you have here is not an exploration of 'jigging the blues': it is simply just jiggin' and bluesin'. The music creates a sound world which references Irish traditional, Chicago blues, American old-timey, Gypsy swing and even a bit of Zydeco when Epping's harmonica takes on the swagger of Clifton Chenier. These elements are there, but are not forced; except in the sense that they are forced by the rhythmic pulse of the music.
The musical selections on the album are all traditional: the chances are that most of them will already be burned into your head through previous encounters. As high as the probability of that is, it's unlikely that you've heard them played quite like this. Whether it's 'The Silver Spear', 'The Foxhunter's Jig', 'Kitty's Wedding' or 'Baby Please Don't Go', there is a distinctive approach taken which marks this album out as unusual – or, at least interestingly different.
I admit it's not entirely true that you haven't heard the music played this way before; the progressive side of traditional music has, in part, been blending musical boundaries for a long time. However, when masters such as Gavin, Epping and Edey combine their experiences, the seemingly effortless creations appear as something entirely new. These spontaneous blends of ideas appear totally natural, as they guide the music from the multitude of possibilities into the flowing path that it takes. All this could of course be a contrivance of studio performance, but from my experiences of seeing these musicians perform live I think not.
There is something traditionally quite pure in the place they have reached: the sound of an alternative tradition; somewhere in a parallel universe, one where the histories of Galway and New Orleans have morphed together. This is the music of the Corrib Delta.
Published on 1 May 2008